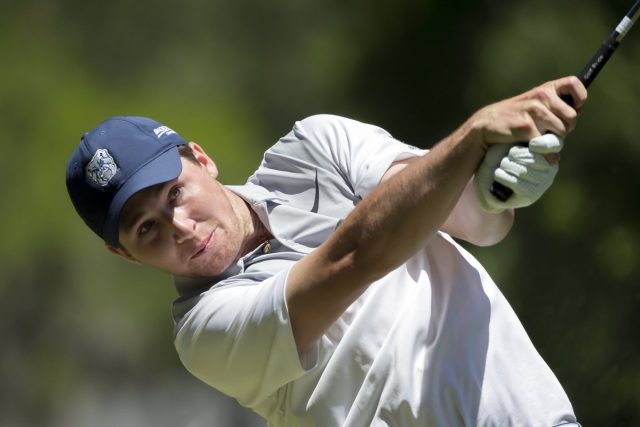 Photo by Butler sports
By Nick Kuster
The Butler men's golf team finished tied for ninth in the 36-hole Wright State Invitational in Springboro, Ohio, on April 14 and 15.
Junior Pat Allgeier led the Bulldogs with a total score of 3-over. He shot a 70 (E) on the 14th and followed that up with a 73 (+3) on the 15th to finish eighth individually. Freshman Raymond Sullivan finished T27 for the Bulldogs shooting a 75 (+5) in the opening round and a 74 (+4) in round two. The Bulldogs finished with a team total of 752 (+52).
Logan Sabins finished tied for 36th for the Bulldogs and Augie Hartnagel finished tied for 44th. Nick Williams and Michael Cascino finished tied for 74th for the tournament.
The Wright State Invitational was meant to be a 54-hole event but with bad weather on the 14th, the players were forced to play only 18 holes instead of the full 36 that was expected for the day.
Wittenberg University won the event with a team total of 721 (+21) and Zach Shroeder of Purdue Fort Wayne was the individual medalist, shooting 67 (-3) on day one and following that up with a 69 (-1) on day two to finish at 136 (-4) for the tournament.
This tournament was a little bit different than most as the teams each had six players compete and counted their five lowest scores. Normally, teams bring five players and they count their four lowest scores.
The Bulldogs take part in the Big East Championships April 26th-28th in Callawassie Island, South Carolina, to close their season.