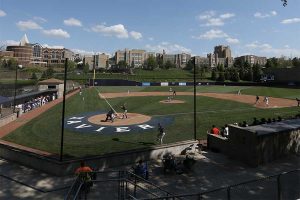 Photo from www.xavierbaseballcamps.com
The Butler baseball team is now 18-17 after losing game one of a three-game series at Xavier on April 18 by a score of 6-5.
Butler ace Ryan Pepiot was on the mound and put the Bulldogs in a good position to win the game. They had a big fifth inning, scoring three runs on four hits. The Bulldogs added one more in the sixth via a solo home run by catcher Zach Parker, making it 5-0 after six innings.
Pepiot got pulled after the sixth. Then it was up to the bullpen. Sophomore right-hander Jack Meyers was called on first. He really struggled and wasn't able to make it out of the seventh, surrendering four runs in just 0.2 innings pitched. Xavier tied the game in the eighth off a solo homer by freshman Luke Franzoni. Going into the ninth, the score was 5-5.
Kevin Napoleon remained in the game for the ninth after giving up that homer to Franzoni. The bottom of the ninth was sloppy for the Bulldogs and was a rough way to lose. After a single, hit by pitch and intentional walk, the bases were loaded with one out. Napoleon then walked in the winning run and it was a 6-5 walk-off for Xavier.
Following this game, Xavier sits atop the Big East standings with a 6-1 conference record. Meanwhile, Butler is in dead last with a 2-5 record. With that being said, there is plenty of Big East baseball to be played, and the Bulldogs have two more games at Xavier to wrap this series up.
Upcoming Big East series:
@ Seton Hall April 26-28th (3 games)
Home vs. Villanova May 3-6th (3 games)