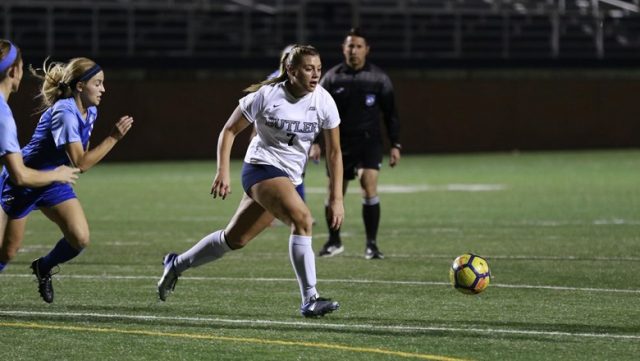 By Chris Brown
In a typical year, most of the attention in the Butler sports world right now would be turned toward spring sports, or perhaps looking back at the basketball teams' seasons. But we all know this is no typical year, and in the absence of live sports, we're all looking either to the history books or the future to keep entertained.
With that in mind, let's take a look forward in the Butler sports calendar to the top questions for the Butler fall sports season that lies ahead:
1. Can men's soccer take another step forward despite key offensive losses
Butler went into the 2018 season ranked ninth nationally in the United Soccer Coaches poll, but despite high expectations the team went 4-12-2 overall and just 2-7-0 at home, missing their conference tournament. The Bulldogs seemed to find their way this past season, though, going 4-4-1 in Big East action, 11-7-2 overall, and making the NCAA Tournament before falling to West Virginia in the first round.
The Bulldogs will look to take another step forward in the fall, but they'll have to do it without their three leading goal scorers from this past season. The Bulldogs are losing forward Brandon Guhl and defender/midfielder Alex Lehtinen to graduation and freshman Wilmer Cabrera has left the program. Head coach Paul Snape is going to be asking more of younger players in the season ahead.
2. Will volleyball build on a bounce-back campaign?
Like the football team, the volleyball team took a step forward after a step back in 2018. The Bulldogs were just 9-21 overall and 6-12 in Big East play in 2018, but with star outside hitter Anna Logan back from injury, the team went 11-7 in conference action this past season, just missing the Big East volleyball championship. 
The team will look to take another step forward in 2020 under head coach Sharon Clark, who's been leading the program for over two decades. Following the graduation of Logan, one of the program's all-time best athletes, as well as senior outside hitter/middle blocker Brooke Gregory, the Bulldogs will lean on players such as middle blocker Melody Davidson and outside hitter Megan Sheridan going into the 2020 season.
3. Will the football team find stability at quarterback?
After a few seasons with Will Marty as its starting quarterback, the Butler football team lacked a consistent option at the position last year. In all, five players threw for more than 30 yards, with three throwing for more than 150 yards. 
The team will likely turn back to Sam Brown, who missed some time due to an injury in 2019, but they're simply going to need better production from the redshirt junior. Brown threw for six touchdowns with five interceptions in 2019, and completed just over 55% of his passes. Butler will undoubtedly need more from Brown if they turn to him again in 2020 as the Bulldogs look to find stability at the position.
4. Can secondary scorers emerge behind Savich and Soderstrom?
In their sophomore seasons, forward Anja Savich and midfielder Katie Soderstrom showed their impressive freshman campaigns were no fluke, leading the women's soccer team in goals with eight each and finishing first and second in assists. Of the three other players with multiple goals in 2019, though, two are leaving the program upon graduation.
The Bulldogs have finished above .500 in Big East play for three straight seasons, and as they look to make it back to the NCAA Tournament, they'll need not only continued strong play from Savich and Soderstrom, but also new supporting scorers behind the pair. Midfielder Becky Dean, Payton Black and Celia Gaynor are candidates to step up in that area.
5. Will women's cross country defend its Big East championship?
The Butler women's cross country team captured its first Big East title last season in impressive fashion, with five Bulldogs finishing in the top 20. It was the program's fourth conference title of the decade, the first three coming in back-to-back-to-back years from 2010-2012. 
The Bulldogs will look to become repeat champions again in 2020. The program loses three seniors — Josephine Thestrup, Kara Stark, and Claire McCabe — to graduation, but returns talented athletes such as incoming-senior Emily Royston, who led the team at the conference championships and was the team's sole representative at the NCAA Championships.