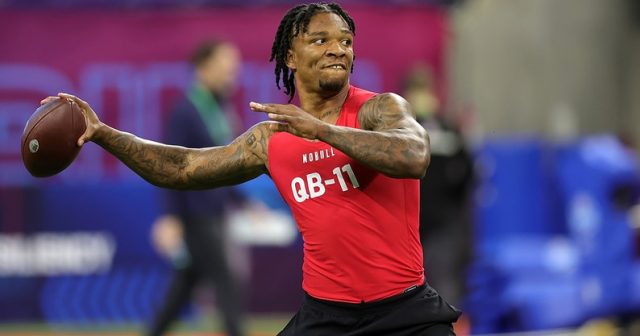 The first week of March saw the NFL combine come to a conclusion. Prospects took to Indianapolis in hopes of making a positive impression on team scouts. Here are my top five takeaways.
Anthony Richardson shows off his incredible athleticism
Richardson stole the show and generated more excitement amongst the media than any other player at the combine. The former Florida Gators quarterback measured in at 6-foot-4, 244 pounds and ran a blazing 4.43 40-yard dash—the fourth fastest by a quarterback since 2000. Richardson continued his impressive performance by setting new records in the broad jump (10 feet, 9 inches) and vertical jump (40.5 inches) for his position. Richardson made plenty of big plays at Florida and showed off his deep ball ability in the throwing session of the combine as well. There are still question marks over Richardson's accuracy and ability to complete the simple throws as he posted only a 53.8 completion percentage in college. Regardless of what the tape says, Richardson may have solidified himself as a top ten pick with one of the great all-time combine performances.
Darnell Washington is a rare weapon
The former Georgia tight end had a stellar combine. Washington stood 6-foot-6 and weighed 264 pounds. He also measured an 83.75-inch wingspan—the largest ever for a tight end at the combine. Additionally, his 11-inch hands are the second largest ever for his position. The 40-yard dash saw him run a 4.65 and the 20-yard short shuttle saw him time at 4.08 seconds which was better than all but two players in the entire combine. The tight end is seen as mainly a really good blocker but was able to show off his catching ability as well. Washington made his case to be a high first round pick and has a good chance to be a threat in the run game and pass game for whichever team lands him.
Christian Gonzalez tops deep cornerback class
This year's cornerback class might be the deepest of any position. Gonzalez tested well enough to separate himself as a top member of the group. The cornerback ran a 4.38 second 40-yard dash and a 41.5-inch vertical jump. He earned a 92 overall draft score by NFL's Next Gen Stats which was best among his position group. Gonzalez looks good on tape, recording 50 tackles, 4 interceptions, and 11 pass break ups in last season's campaign with Oregon. Going into the combine Gonzalez was already a top prospect and his combine measurements upheld and even boasted his ranking amongst many experts. As of now, he is being drafted as high as No. 6 overall to the Detroit Lions.
Bijan Robinson is what most thought he was
Robinson is almost unanimously seen as the top running back and arguably the most talented offensive player in the draft. His combine only confirmed what scouts thought. He measured as 5-foot-11 and 215 pounds, ran a 4.46 second 40-yard dash—sixth best result of the running back group. He also tied for fifth in vertical jump (37 inches) and tied for fourth in the broad jump (10-foot-4). Robinson may not have won every measurement in the position class, but his numbers were excellent for a bigger built back. On-field workouts saw Robinson show off his burst, quickness, and vision and in the drills, he moved through the bags as quickly as any running back. At Texas last year, he was one of the best players in college football and his combine reaffirmed his high first-round evaluation.
Jalin Hyatt is making a case for a late first round pick
Hyatt showed his explosiveness with his combine numbers, jumping 40 inches in the vertical and 11-foot-3 in the broad jump while running a 4.40 40-yard dash. In a somewhat lackluster receiving class this year, Hyatt might be one of the only players to possess true breakaway speed. He also is a very smooth route runner and gets in and out of his breaks quickly. After winning the Biletnikoff Award—given to the best receiver in college football—last season, Hyatt is certainly a top offensive target in this year's draft and his combine will only move him up in the mock drafts.