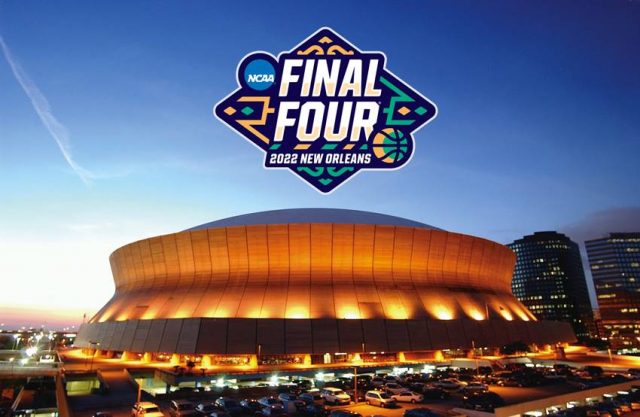 The Final Four in this year's tournament is set in stone, with four blue-bloods looking to clinch a spot in the national championship game.
This Saturday in New Orleans No. 1 Kansas will take on No. 2  Villanova (6:09 p.m. ET, CBS) and No. 2 Duke will face No. 8 North Carolina (8:49 p.m. ET, CBS).
Each of these teams has had a different journey to the Final Four in New Orleans. Kansas is the only remaining one-seed as Arizona, Gonzaga, and Baylor didn't make it past the Sweet Sixteen. Villanova is a tough and experienced two-seed led by Head Coach Jay Wright. No. 2 Duke is looking to put a cherry on top of legendary coach Krzyzewski's final season as the leader of the Blue Devils with a National Championship. They have to get past rival and No. 8 seed North Carolina, who upset them in their last meeting of the regular season.
No. 1 Kansas vs. No. 2 Villanova
The Kansas Jayhawks are looking to make their first National Championship game appearance since 2012 when they lost to a Kentucky team loaded with NBA prospects, however, the Villanova Wildcats stand in their way. They have made the Final Four three times in the past six years, and are arguably the best defensive team left in the tournament. Led by fifth-year senior Collin Gillespie, the Wildcats should look to slow the game down and force Kansas to play in the halfcourt. Ochai Agbaji, a senior for the Jayhawks, is the leading scorer on the team and will have to push the pace if he hopes to keep Villanova on their heels. A fast-paced game plus the possible absence of Justin Moore for the Wildcats could lead to Kansas pulling out a win. If it's a close game at the end, Villanova's excellent free-throw shooting will come into play. They shot 83% during the season and were a perfect 15 of 15 against Houston in the Elite 8. 
No. 2 Duke vs. No. 8 North Carolina
It has finally happened. For the first time in the tournament's history, Duke and North Carolina will face off. Duke enters the game with the number one offensive efficiency rating. Freshman standout and potential NBA lottery pick Paulo Banchero has found his stride during the tournament. Big man Mark Williams has also emerged, causing havoc in the paint and becoming an x-factor for the Blue Devils. The Tar Heels will have to count on Armondo Bacot to help stop Williams on the boards if they hope to have a chance. North Carolina ranks sixth in rebound margin per game and they'll need to keep that up against a formidable Coach K-led team. If Brady Manek can continue to excel in his role in the starting lineup since being moved there at the start of the tournament, the Tar Heels should prevail.