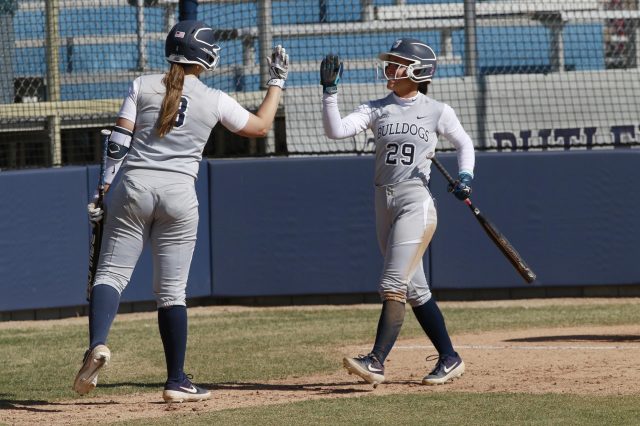 By: Brian Cooney
This season, the Butler Softball team is off to a hot start, going 18-10 in their first 28 games. They face a tough test this weekend against an in-conference rival as they play the Uconn Huskies. Through five matchups all-time, Uconn is undefeated against the Bulldogs. This should be an exciting matchup to watch this weekend as the two top teams in the Big East Conference battle it out for first place. 
Butler is coming off a 17-21-1 regular season last year. Despite their mediocre year in 2021, the Lady Bulldogs have come into this season with something to prove. The story behind their success thus far has been pitching. This season, Karli Ricketts and Alyssa Graves have been lights out, combining for over 150 strikeouts. Ricketts leads the team with a 2.28 ERA, while the team has a 2.83 cumulative ERA. On the other end, Bri Avery and Lauren Fey have both hit around.400 from the plate. They lead one of the strongest offenses in the Big East Conference, as they hit .280 compared to their opponents' .228 average. 
Uconn has had a stellar start to their season, as they sit at the top of the conference. As a team, the Huskies are hitting .287. They are led by stars Brianna Marcelino and Lexi Hastings. However, the Bulldogs do have the edge in the pitching matchup. The Huskies have a 3.64 team ERA and let the opposing team hit for an average of .268. 
This matchup should be pretty even, so it will be interesting to see who comes on top and takes charge of the conference—the Huskies and Bulldogs matchup in Indianapolis. The first game is set for April 1st at 3 pm.