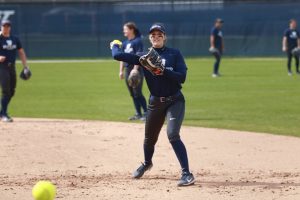 By Sam Phifer
The Butler University Softball Team begins its season this upcoming weekend with a tournament in Rosemont, Illinois.
The Bulldogs will face off against Green Bay and Evansville on Feb. 7, Nebraska-Omaha and Loyola Chicago on Feb. 8, followed by Western Illinois on Sunday, Feb. 9.
Butler has a losing record against all teams since 2003. The Bulldogs are 3-9 against Evansville, 11-12 against Green Bay and 0-1 against Western Illinois. This will be the first ever meeting between the team and Nebraska-Omaha.
After a tough season last year in 2019, putting up a 16-32 record consisting of going 3-7 at home and 4-12 in BIG EAST play, the team is looking to bounce back and make a big splash this season.
With the conclusion of the 2019 season, the Bulldogs lost catcher Sammy Anderson, who posted a .257 batting average with 105 at bats and three homeruns, outfielder Jenna Foreman who batted .302 with 159 at bats and 20 RBI. The biggest loss for the Bulldogs is pitcher/infielder Kaitlin Doud who had 130 at bats, three homeruns and also pitched 48.2 innings posting 21 strikeouts and a 4.17 ERA.
The Bulldogs are returning a majority of players from their 2019 roster including stars Maddie Moore who posted a .337 with 89 at bats, Lauren Fey who batted .308 with 130 at bats and 40 hits, as well as junior infielder Madi Christiansen who batted .255, 94 at bats, and 24 hits.