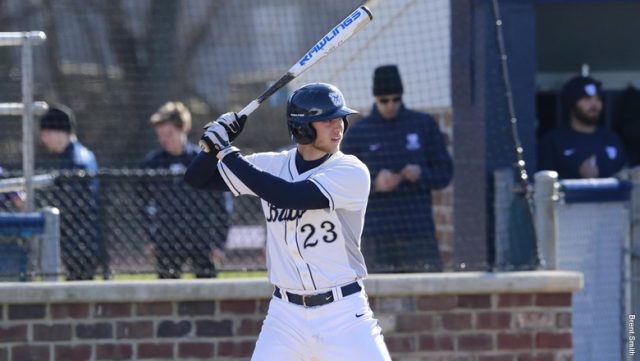 https://butlersports.com/boxscore.aspx?id=9075&path=baseball
The Butler Baseball team made the trip to Bart Kaufman Field in Bloomington on Wednesday for their first midweek game of season, suffering a 9-3 loss to the Hoosiers (4-4).
The Bulldogs started the game on a strong note with a 2-0 lead after the first two innings behind RHP John MacCauley. The sophomore struck out five batters in his two and a third innings of play. Sophomore James Gargano scored off of a wild pitch, with junior Brody scoring off of a passed ball in the second. The squad had 5 total hits on the day, two from sophomore Robbie McCargar, and one each from senior Kyle Smith, James Gargano and junior Brody McGrath.
The Hoosiers gained a 3-2 lead in the third inning with a homerun from junior Matt Gorski, bringing in Jeremy Houston and Drew Ashley. IU didn't look back from there, with an RBI single in the fifth and RBI double in the sixth to provide a comfortable lead.
The away team didn't score again until the seventh inning with a single from James Gargano, following with Brody McGrath finding first base, advancing Gargano to 2nd. Junior Duncan Hewitt then reached on a fielder's choice, stole second, and Gargano stole home to cut the Hoosiers' lead 5-3. The Hoosiers scored one run in the fifth and four in the seventh to seal the deal.
The 2-4 Bulldogs featured eight pitchers on the day, with several getting their first experience on the mound, with MacCauley receiving the loss throwing two and a third innings.
The team will head to Osceola, Florida this weekend for the 2019 Russmatt Central Florida Invitational. They'll face Saint Peter's, Central Michigan, Pittsburgh and Hofstra in the span of 4 days at Osceola County Stadium.