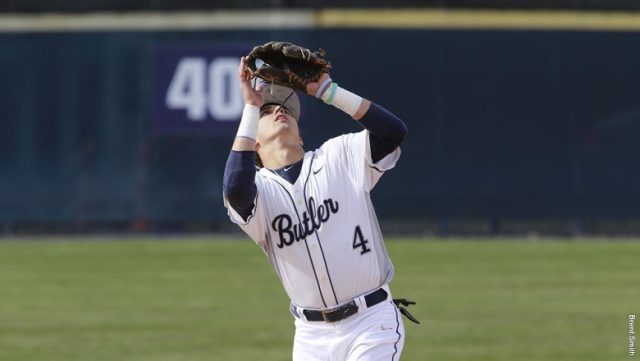 Butler Men's Baseball secures two wins in a three game series against Rider to hit off their 2019 season.
 Game 1 vs. Rider: Friday, February 15, 2019
The Bulldogs came out sharp and were the first to score off of junior Harrison Freed's RBI grounder.
Bulldogs Junior Ryan Pepiot made his season debut on the mound with nine strikeouts in four innings.
Butler held their 1-0 lead, until Rider cracked a grand slam to cap off the third.
Rider increased their lead 9-1 after the sixth inning and held Butler to a scoreless five innings.
The Bulldogs gained momentum after scoring three runs in the seventh inning, but were unable to rally for the win with a final score of 9-4.
Game 2 and 3 vs. Rider: Saturday, Feb 16, 2019
The Bulldogs went home with a bang after sweeping Riders in Saturday's doubleheader.
In game two, Butler Senior Kyle Smith and Junior Harrison Freed hit back-to-back home runs, which pushed the Bulldogs lead to 4-1 after the third.
Butler senior Sam Hubbe pitched for five innings and held Rider to one run.
Smith and Freed increased Butler's lead after hitting their second homers of the game. Smiths came in the sixth and Freed's in the eighth inning.
The Bulldogs captured their first victory of the season with a final score of 14-3 for game two of three.
In game three, Rider came out hot racking up two runs to finish out the first inning.
The Bulldogs equalized in the fourth inning and rallied for four runs off Freed's third home run of the weekend in the fifth.
Butler scored at least one run in every inning from the third to the end of the game.
Sophomore Connor Schultz had seven strikeouts and held the Broncos to two runs. In the sixth inning, sophomore Jack Myers took over the mound for three innings and junior Jack Pilcher wrapped up the game.
The Riders scored their only two runs of the game in the first inning.
The Bulldogs capped off their 2019 weekend opener with a 9-2 victory over Rider.
The Bulldogs head to New Orleans this weekend and will face Rutgers on Friday, Chicago State on Saturday and New Orleans on Sunday.