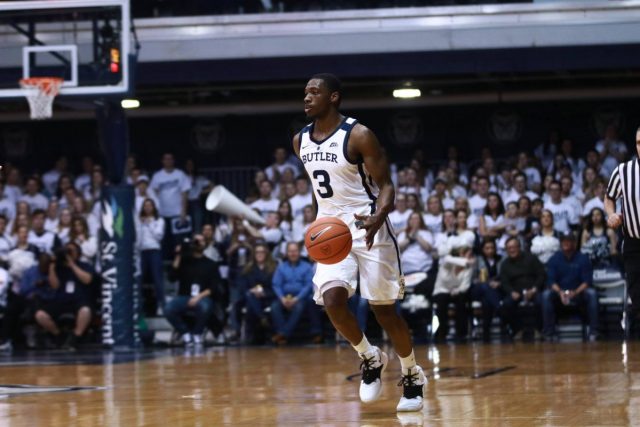 By Sam Weiderhaft
The Butler men's basketball team came back stronger after their overtime loss last week to St. John's, securing a 91-78 win over DePaul on Saturday night.
Kamar Baldwin led the team with 25 points, his eighth game this season scoring 20 or more points. Sean McDermott also added 15, sinking three of seven shots from downtown.
The Blue Demons started the game with a made three-pointer from Paul Reed, which turned out to be their only lead of the game. The Dawgs would lead by as much as 14 in the first half, with DePaul going on a 6-0 scoring stretch to end the half down 44-41.
DePaul inched closer in the second half, but Butler shut down the Blue Demons every time they tried for the lead. Sean McDermott knocked down two three-pointers in a row after DePaul came within three, and Nate Fowler hit his 11th three-pointer, sparking an 11-0 run after the Blue Demons made another run and came within one.
Butler shot 12-of-28 from beyond the arc, and out-rebounded DePaul 31-23.
Senior Max Strus led the Blue Demons with 23 points, with fellow senior Eli Cain adding 17.
The Bulldogs now move to 15-11 on the season, with a 6-7 record in the Big East and 11-3 record at home. Butler sits right in the middle at 5th in the Big East, right behind 7-6 St. John's, who just came off a big win vs. Villanova.
Butler's next test will come in Milwaukee against #20 Marquette on Wednesday, which many see as a "must win" game regarding the Bulldogs' NCAA tournament hopes.