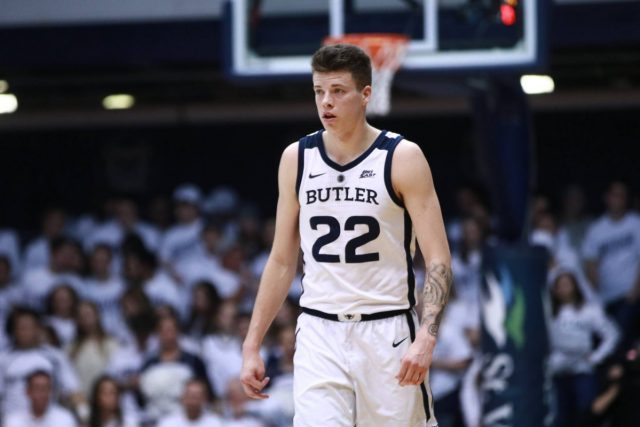 Big East play is winding down and while it hasn't been the most successful season in recent memory for the Butler Bulldogs, they still have a fighting chance to make the NCAA Tournament. For that to happen, a key core of players will have to do the heavy lifting to get them there. March doesn't come to those who wait. Butler 360 Sports has created a metric to see what players will need to play at an even higher level to bring The Madness back to campus. Based off of scoring, defense, grittiness, clutch-gene, and excitement*, the top five players for the Bulldogs have been determined with each category worth 10 points.
*disclaimer: the SDGCE metric is purely subjective and certainly not scientific. Yet.
 5.Aaron Thompson, 26/50
 Scoring: 3
Defending: 8
Grittiness: 7
Clutch-gene: 4
Excitement: 4
Thompson's greatest contribution to Butler is his prowess on the defensive end. Outside of Kamar Baldwin, there is no better on-ball defender than Thompson, who averages a steal per game. The obvious flaw in his game is his lack of shooting ability, as almost every opposing team leaves him alone on the perimeter. For a team dependent on perimeter ball movement and screens, this proves detrimental on many occasions. Still, his 56% from the field is impressive for a guard and he knows how to pick spots. Thompson's team leading 4.2 APG also does its best to outweigh his deficiencies and he finds himself comfortably positioned at the five spot.
4. Jordan Tucker, 28/50
 Scoring: 7
Defending: 5
Grittiness: 3
Clutch-gene: 5
Excitement: 8
The hype around the former-Duke transfer has subdued a bit since his debut in mid-December, but Jordan Tucker is still one of Butler's key pieces down the stretch. He is the team's third leading scoring at 9.9 PPG and is a surprisingly good rebounder, leading the team with 4.9 RPG. Tucker's low grittiness rating stems from his uneven and sometimes disinterested demeanor on the court, leading to inconsistent shooting numbers (shoots just 35% from the field). While driving the ball more may serve him well, it is hard to argue with the production from a player that hasn't played much competitive college basketball as a sophomore.
3. Paul Jorgensen, 31/50
 Scoring: 7
Defending: 3
Grittiness: 5
Clutch-gene: 7
Excitement: 8
While Jorgensen is supposed to by Butler's spark off the bench, he ends up being more of a firecracker. And when he gets going, he gets going. Maybe it stems from his time street-balling in New York City, but no player on the team knows how to get the crowd on its feet quite like Jorgensen. Just go look up "Paul Jorgensen Villanova Three" and you will understand. Much like Tucker, he suffers from inconsistent shooting, but it is certainly worth it once he gets hot. Unfortunately, he does have defensive lapses that lead to easy baskets for opposing teams. But he's  a near-elite shooter who can finish at the rim and for the Bulldogs, that is much needed following the departure of Kelan Martin.
2. Sean McDermott, 36/50
 Scoring: 7
Defending: 6
Grittiness: 10
Clutch-gene: 7
Excitement: 6
It's safe to say that Sean McDermott has finally grown into his frame. Once a too-skinny, too-weak defender in the Big East, he has slowly turned into the second-most important player for LaVall Jordan's squad. At 6'6'', McDermott can play either forward positions and is an ideal floor-stretcher in today's college basketball landscape. With his high release point mirroring Kyle Korver, McDermott knocks down a team-leading 2.4 3PG. The biggest rating here is grittiness, coming in at a 10 out of 10. No player on the team gets to more loose balls and shows more hustle on every play like Sean McDermott. He is the heartbeat of the Butler Bulldogs.
1. Kamar Baldwin, 38/50
Scoring: 8
Defending: 8
Grittiness: 7
Clutch-gene: 8
Excitement: 7
Baldwin was destined for greatness the minute he knocked down the game-winning fade away against Northwestern during his freshman year two seasons ago. Now the undisputed team leader and go-to-scorer, Butler's tournament hopes rest squarely on his shoulders. Luckily, he has the tools to get it done. An elite defender and an elite college scorer, Baldwin will go down as a Bulldog great no matter how this season ends. His consistency across the board gives him our top spot.
Do you agree with our rankings? Does Joey Brunk or Nate Fowler deserve a place on the list? Let us know in the comments.