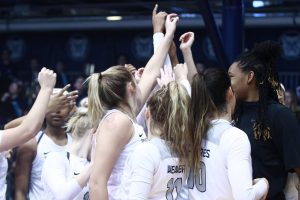 By Nick Kuster:
The Butler Women's Basketball team headed out east for a 2 game road trip where they would take on the St. Johns Red Storm Friday night and the Seton Hall Pirates Sunday afternoon.
The Bulldogs went into the St. Johns game with a 17-4 record and were coming off of back to back home losses to Depaul and 10th ranked Marquette. The Blue Demons and the Golden Eagles are arguably the best two teams in the Big East this year.
The Red Storm are an under .500 team and the Bulldogs already defeated them 66-45 at Hinkle back on January 6th. However, road games in a major conference are difficult for any team.
The Bulldogs struggled early in the first half, but fought their way back to be tied at halftime. Butler would go on a 7-0 run late in the 4th quarter and erase a 9 point deficit.With 3.1 seconds left in the 4th quarter, the Bulldogs star guard Whitney Jennings knocked down an elbow jump shot to take the two point lead. The Red Storm would get a wide open layup as time expired in the 4th quarter on a blown defensive play by the Bulldogs sending the game to overtime.
It was all Butler in overtime as they outscored the Red Storm by five to win 73-68 in a hard fought important win for the team. Whitney Jennings led all scorers with 29 points on 5-8 from three. Tori Schickel had a near double double as she tallied 23 points, 9 rebounds and 5 blocks for the Bulldogs.
The Bulldogs didn't have much time to celebrate as it was a quick turnaround as they only had one day off and traveled to Seton Hall on Sunday for another Big East road test. The Bulldogs defeated the Pirates earlier in the season on January 4th in Hinkle 62-59.
The Pirates came out to a 10 point lead at halftime and didn't look back as they outscored the Bulldogs 26-17 in the third, essentially sealing the deal heading into the 4th quarter as they lead 58-39. The Pirates won the game 83-62 and the Bulldogs would finish their road trip with a record of 7-4 in the conference and an overall record of 17-5 on the year.
Tori Schickel, Butlers star big, became the all-time leading rebounder in Butler women's basketball history as she grabbed 10 boards in the loss to Seton Hall. This moved her career rebound total to 1,052.
The Bulldogs will look to bounce back on Friday night when they host the Xavier Musketeers at 7 pm in Hinkle.