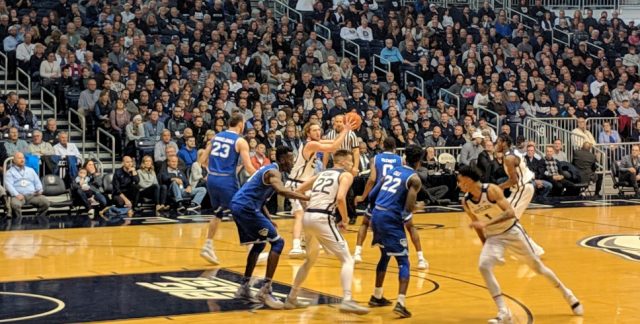 The Butler men's basketball team snapped a three-game losing streak with a 70-68 win over Seton Hall on Feb. 2 inside Hinkle Fieldhouse.
Butler jumped out to a 26-13 lead and made six of its first eight 3-pointers. The Bulldogs shot 63 percent from the field and 60 percent from deep in the first half, taking a 46-34 lead into halftime.
After contributing only two points in the opening 20 minutes, Seton Hall guard Myles Powell scored 19 second-half points and hit a three to tie the game at 68 with 42 seconds left.
Paul Jorgensen gave Butler the lead back on the next possession thanks to a goaltending violation. Powell missed a three at the buzzer that would have won the game for the Pirates.
Butler's bench contributed 36 of the team's 70 points, including a team-high 18 from Jorgensen and season-best 15 from Nate Fowler.
The Bulldogs shot 49 percent from the floor and 48 percent from three. Seton Hall finished at 48 percent and 38 percent, respectively.
Butler's next game is at Georgetown on Feb. 9 at noon. Three of the Bulldogs' next four contests are on the road.