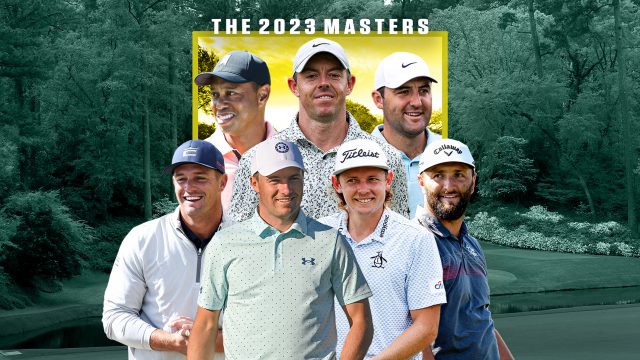 Graphic courtesy of Golf Digest.
By: Mark Surhoff
With the 87th Masters fast approaching, the key question everyone's asking is the same across the golf world: Who are you picking to win this year at Augusta National? With a tremendous field featuring the best professionals and many of the top amateurs in the world, the first major of 2023 should be an epic ride from Thursday's first round onward.
This year's Masters feels wide open given the stacked field, but last year's champion, Scottie Scheffler, enters as the most likely to win a second consecutive green jacket since Tiger Woods arrived at Augusta National to go back-to-back in 2002. Unlike last year, when there were no single-digit favorites entering the first major, 2023 features three: Scheffler (5-1), Rory McIlroy (7-1) and Jon Rahm (9-1), according to Caesars Sportsbook.
There are plenty of golfers behind them who will surely be in contention, including Jordan Spieth and Jason Day, both playing some of their best golf. And then there's the duo of Tiger Woods and LIV player, Phil Mickelson. Add it all up, and it would appear that we're in for a wild Masters week full of unexpected twists and turns but also a lot of familiar names atop the leaderboard.
This is the first Masters Tournament where it will feature players from the rival tour, LIV Golf. There are 18 players from LIV Golf set to tee it up at the Masters this weekend and 6 of them happen to be past champions at Augusta National. 
Phil Mickelson won three times, in 2004, 2006 and 2010, Bubba Watson in 2012 and 2014, Charl Schwartzel in 2011, Sergio Garcia in 2017, Patrick Reed in 2018 and Dustin Johnson in 2020. 
Let's take a look at some of the featured groups that are set to go off in the first round on Thursday. Five-time Masters Champion Tiger Woods will be teeing off at 10:18 a.m. alongside Viktor Hovland and Xander Schauffele. Meanwhile, Scheffler is teeing off at 1:36 p.m., McIlroy at 1:48, and 2 p.m. will see Jordan Spieth, Tommy Fleetwood, and Tony Finau go off in the final group.
Woods is part of the featured groups, alongside the 10:42 a.m. tee time of Justin Thomas, Jon Rahm, and Cameron Young. 
Rounds 1-2 will be Thursday and Friday and then cuts will be made and the final players finish off their third and fourth rounds on Saturday and Sunday on CBS.