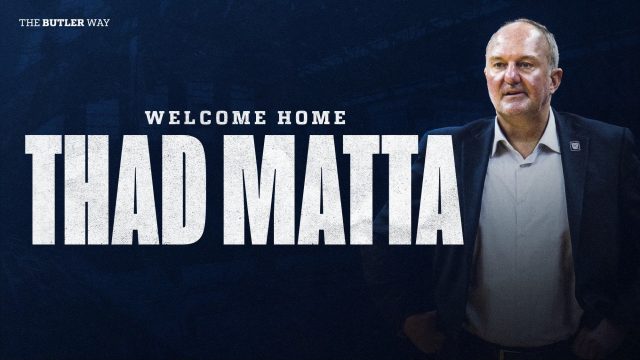 By: Kate Fulton and Maeve Van Etten
Despite being cloudy and rainy for most of the day, a little after 2:30 p.m. on Wednesday, April 6, sunlight did shine through the windows of Hinkle Fieldhouse as Thad Matta was graciously welcomed back to coach the Butler men's basketball team. He is a new head coach with a familiar face, as he previously was head coach for the Bulldogs for the 2000-01 season. Matta describes what it is like to return to Butler after almost 25 years.
"It's unique when you think about it in terms of the coaching cycle," Matta said. "I feel blessed to have this opportunity. Not many guys get to do this, especially at their alma mater…When I got the call, I said, 'I think I found the perfect situation.'"
Between these years at Butler University, Matta had a fairly successful coaching career elsewhere. His longest run was with Ohio State from 2004-2017 where he led the Buckeyes to nine NCAA tournaments, two Final Four appearances, one National Championship game, and four Big Ten Tournament titles. He was let go after 13 seasons due to medical reasons, but Matta explained that his physical health is back in shape and he is ready to be a head coach again.
"When I left Ohio State, I needed a break," Matta said. "I have taken the time and I feel like I have gotten myself back into fighting shape."
Matta is also ready for the challenges that come along with the competitive Big East conference. 
"This program is different than when I was here the first time, there's no question about it," Matta said. "You look at the coaches in this league, you look at the players in this league. I'd put it up against any league in the country bar none, so I know we've got our work cut out for us in terms of what we have to do to contend for a title."
The other school he was head coach for is one that many Butler fans would consider as our biggest rival – the Xavier Musketeers. He coached this Cincinnati team for three seasons from 2001-04 and left with a winning record and three NCAA tournament appearances. Matta joked that Xavier will be happy to see him on Butler's bench.
"There is irony in it, make no mistake about it," Matta said. "I'm sure that [Xavier] will welcome me back with open arms and maybe have a celebration before the game."
Following remarks from Mark Minner, President James Danko and Athletic Director Barry Collier during the celebration, Matta took to the podium to deliver his own words and share his goals and aspirations for the team. 
Matta is no stranger to the Butler community and looks to instill in his players the Butler values that so profoundly shaped him such as hard work and accountability. 
"I'm excited to have these guys back," Matta said. "I like what I've seen thus far, and we have some more pieces of the puzzle to add. I love the challenge of a new start, and I hope our players love the challenge of a fresh start and new opportunity ahead."
Matta hopes to make an impact that goes beyond the basketball court, telling them recently, "We're going to laugh together, we're going to cry together, there's going to be so many different things along the way that are going to happen, but when you leave here, you're going to be a man, and you're going to be able to survive and make an impact in society."
Fans must wait a couple more months before Matta returns back to Hinkle Fieldhouse before his first game, but there is no doubt that fans and Matta alike are excited to experience that Hinkle magic once again. 
"I think this is the greatest basketball venue," Matta said. "There's just something magic about Hinkle. I'm going to have to make sure I have my emotions in check on that day."
While his emotions will have to be in check that first game, Matta was sure to let Butler fans know how much the opportunity meant to him and how much Butler has impacted his life. 
"I've always considered myself the luckiest person in the world," Matta said. "From the ability to play this game, to go to school here, have the opportunity to go out to coach. It's been an amazing ride for me to come back, to start where I began, and do it all again. I consider that lucky. I read, I think it was Colin Powell, who said, 'Life is a rollercoaster. You get on it, you go for a hell of a ride, and it comes back to right where it started.' Well Butler fans, I just punched my ticket for another hell of a ride."