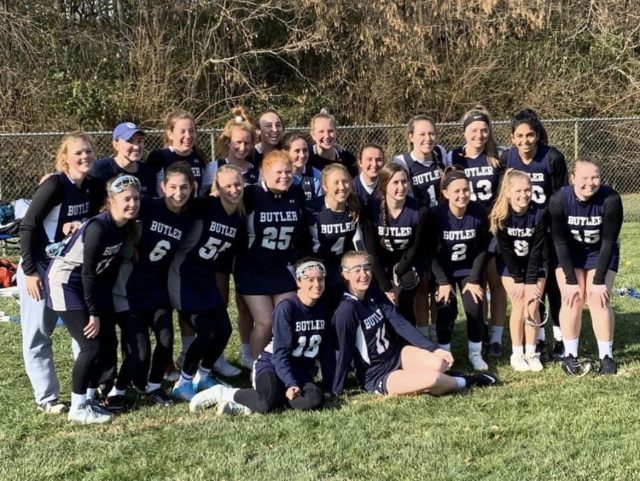 The Women's Club Lacrosse team is excited for this spring season, as they finally will get the chance to compete in games and Play Days for the first time since 2021.
Women's Club Lacrosse is one of the many club teams on Butler's campus. Some others include soccer, volleyball, basketball, and ultimate frisbee. This club is meant for women who both have experience with lacrosse and for those who want to try and learn something new. Typically, the fall season consists of 1 to 2 practices a week and one home tournament. The main season takes place during the spring semester, where games become more regular, both home and away, and practices are 2 to 3 times a week.
The last time the Women's Club Lacrosse team hosted and participated in a Play Day was November 2021. Butler hosted Xavier University and Taylor University for a three game play day. Butler tied Xavier 8-8 in the first game, and then beat Taylor 7-5.
Looking back before that, they traveled to West Virginia for a tournament in September 2019. They had some tough competition against the West Virginia University Women's Club Lacrosse team, but grew a lot from the experience and created many memories.
Due to the pandemic and low numbers, they have not been able to compete against other schools for the past year and a half. However, with all of the COVID-19 restrictions being lifted and more women wanting to join the team, they are eager to get back on the field. Take a look at their upcoming schedule for the spring season:
March 18 vs. Purdue (Home)
March 25 at Xavier (Away)
April 2 at Dayton (Away Play Day)
April 15 vs. Xavier (Home)
April 22 at Taylor (Away Play Day)
They will begin practicing 2 times a week, as they prepare for some tough competition later this semester.