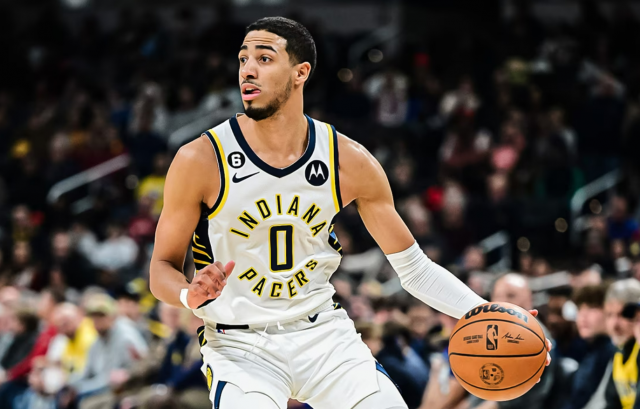 February is here, which means that the NBA All-Star weekend is fast approaching. The association's week off will be filled with events like the Three-Point Shooting Contest, the Slam Dunk Contest, the Skills Challenge and the Celebrity All-Star Game. 
The main event, of course, is the NBA All-Star game on Feb. 19. The best of the best will face off in Salt Lake City in an exhibition that hosts this season's best.
For this year's game, LeBron James and Giannis Antetokoumnpo will be captains once again, leading a star-studded list of All-Star starters. For the West, the remaining starters include Stephen Curry, Luka Doncic, Zion Williamson and Nikola Jokic. For the East, the rest of the starters include Kyrie Irving, Donovan Mitchell, Jayson Tatum and Kevin Durant.
The remaining reserves were announced on Feb. 2. by TNT's Inside The NBA crew. Among the leading names on the reserves list is first-time All-Star and Pacers guard Tyrese Haliburton. The third-year pro from Iowa State is averaging 20 points per game and is leading the league in assists with 10.3 per game. He's also been shooting the ball at an efficient clip — 48% from the field and 39.3% from three on 7.4 attempts a game.
Haliburton is the 15th Pacers ever to be selected to be an All-Star — Domantas Sabonis in 2020 was the last one to do so for Indiana. This isn't the first time Haliburton has been a part of All-Star festivities though, as he has participated in the Rising Stars Challenge the past two seasons.
Two of Haliburton's teammates will be a part of that same Rising Stars Challenge this year. Rookies Bennedict Mathurin and Andrew Nembhard were both selected by NBA assistant coaches to play in the game on Feb. 17. 
Mathurin — a top candidate for the NBA Rookie of the Year as well as Sixth Man of the Year — is averaging 17.4 points and 4.2 rebounds off the bench this season. He has already established himself as one of the best in the league at finishing at the rim and getting to the free throw line. Mathurin is 82.3% from the charity stripe, connecting on 5.2 of his 6.3 attempts per game.
Nembhard has started a majority of the season — 37 of 48 games he's played — and has played well in various roles, whether it's in place of Haliburton or next to him in the backcourt. The first-year player out of Gonzaga is averaging 8.4 points, 4.1 assists and 2.9 rebounds this season.
The Pacers still have five games remaining before the All-Star break and currently sit at 10th in the conference with a 25-30 record.