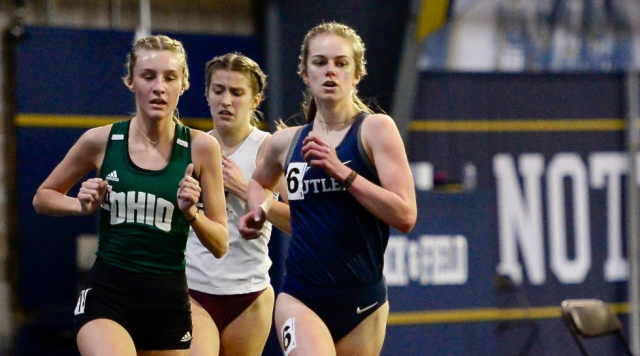 Butler sports have had an interesting start and are working to finish their season strong heading into post- seasons. Track and field, women's, and men's basketball have had some significant recent match-ups. 
Butler basketball has been on a rough patch these past few weeks. Both women's and men's basketball have found themselves in a rut, looking to get out of a four and five-game losing streak. Men's basketball has big conference losses against Creighton, UConn, Providence, and Seton Hall. While women's basketball also gained losses against  Creighton, UConn, and Providence. In addition to these conference losses, they also picked up two losses against St. John's and Marquette.
Looking into the next couple of weeks, Butler will look for their key players to come up strong. Manny Bates is back for the Bulldogs and will look to continue both his offense skills and defensive rebounding skills to help the Dawgs pick up some wins. The women will rely heavily on Sydney Jaynes down in the paint to score big. Although basketball has been struggling, the rest of the season looks hopeful for the dawgs. 
Butler track and field always is always a steady program at Butler. This year is no different as they have really proven themselves these past few weekends.
Track and field had split up last weekend as some members of the team went to Bloomington, Indiana to face off with Indiana University, while the others took the route to Champaign, Illinois to compete with the University of Illinois.
The whole team succeeded and the men's team placed fourth overall while the women placed second. With the success of the team overall, a few individuals have exceeded expectations.
Niki Ezeh broke the pentathlon record here at Butler, scoring an astonishing 4,006 points. Ezeh competed in the shot put, long jump, high jump, and 60-meter hurdles. In these events, she won three of them, giving her the first-place overall medal at The Illini Challenge. In addition to Ezeh, Jesse Hamlin on the men's team also shattered a record. Hamlin ran a 1:49.12 second 800-meter dash.
The track and field team overall had an exceptional weekend. With Hamlin breaking 1:50 in the 800 and Ezeh winning the pentathlon, it was a pretty exciting weekend for the dawgs on the road.
Butler track and field will return to action February 10th at the Music City Challenge in Nashville Tennessee.
For Butler 360, I'm Marisa Guisti.