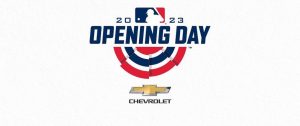 Major League Baseball's 2023 opening day began with all 30 teams in action on Thursday, March 30. It was an exciting day as baseball is officially back.  We have some new faces along with new rules that were in place as the pitch clock kept games shorter and players were getting penalized for getting to the batters box slowly for the very first time.
Here are some of my key moments of the day:
Giants vs. Yankees
Reigning AL MVP Aaron Judge homered in the New York Yankees win starting 2023 off with a bang after signing a massive contract in the offseason. Another Yankee had a day in Shortstop Anthony Volpe. He shined in his MLB debut drawing. a walk with a stolen base in the Yankees' 5-0 win. 
White Sox vs. Astros 
The defending World Series champions lost their home opener to the White Sox as Andrew Vaughn was the hero. He hit a tie-breaking two-run double in the top of the ninth and the Sox held on for a 3-2 opening-day win. Yordan Alvarez hit his first homer of the year in the bottom of the ninth to cut the lead, but Houston was unable to get another run to come back. 
Angels vs. Athletics 
Coming off his MVP performance in the WBC, Shohei Ohtani started his campaign on Thursday against Oakland by holding the A's hitless through 3 innings. He ended the day with 10 strikeouts and 6 scoreless innings but ultimately the A's came up on top 2-1. 
Diamondbacks vs. Dodgers 
The Dodgers are looking a little different this year without the faces of Trea Tuner, Cody Bellinger, and Justin Turner but started the 2023 season out with a win over Arizona. Catcher Will Smith went 3 for 5 driving in 3 runs. Outfielder James Outman homered in his season debut as well. Julio Urías, last year's NL ERA leader, got the victory in his first career opening-day start. The left-hander allowed four hits and two runs in six innings. He struck out six as the Dodgers defeat the Diamondbacks 8-2. 
Rangers vs. Phillies 
The Rangers rallied to grab a win over the Philadelphia Phillies. Robbie Grossman and Brad Miller homered in a big comeback for Texas after newly Ranger Jacob deGrom struggled in his debut. The two-time Cy Young winner gave up 6 hits-all for extra bases- and was charged with 5 runs in multiple innings. The Phillies led 5-0 heading into the bottom of the fourth, but Texas scored nine runs in the inning to go ahead.
Brewers vs. Cubs
Dansby Swanson delivers in Cub's opening day win as he leads the team to a 4-0 victory over the Milwaukee Brewers. Swanson had three hits and Marcus Stroman worked six scoreless innings on opening day. Swanson's first hit with his new team was an RBI single that sparked a four-run third. He added on two more singles and played solid defense including a clutch double play.
Pirates vs. Reds
The Cincinnati Reds were not able to turn the chapter from last year's 100-loss season. Reds pitchers issued nine walks to Pirates hitters which played a huge part in the Reds' 5-4 loss in front of a sold-out crowd of 44,063 at Great American Ball Park which happened to be the largest regular-season crowd in the history of the ballpark.