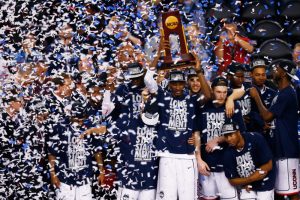 After a dominant run in the NCAA tournament, the number 4 ranked Uconn Huskies completed March and won the National Championship. They took down the San Diego State Aztecs 76-59 Monday night at NRG Stadium in Houston.
The Huskies now have won five championships in the past 24 years under three different coaches. Junior center Adama Sanogo finished the game with 17 points and 10 rebounds as he was named the Most Outstanding Player in the Final Four. Jordan Hawkins scored 16 points and won the Men's title a day after his cousin Angel Reese of LSU did for the Women's team.
The Huskies played 17 non-conference games this season and won all 17 by double digits. They won six NCAA tournament games by an average of 20 points making them only the fifth team to do so since 1985. 
UConn is only the sixth team to win the NCAA Championship joining UCLA (11), Kentucky (8), North Carolina (6), Duke (5), and Indiana (5).
https://www.espn.com/mens-college-basketball/story/_/id/36061720/uconn-completes-dominant-run-wins-fifth-national-title