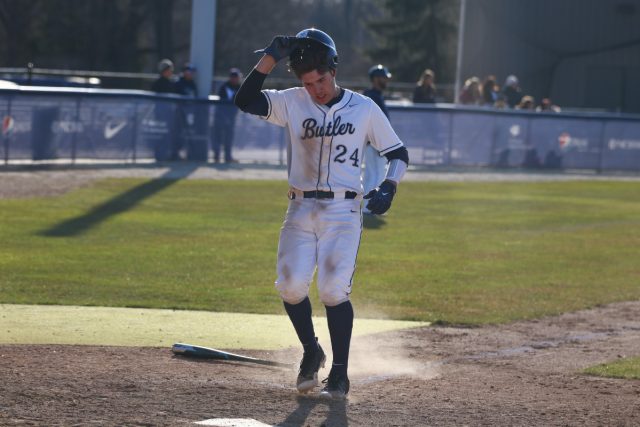 By Will Haughey
After starting the season 2-4, the Butler Bulldogs baseball team traveled to Osceola, Florida for the 2019 Russmatt Central Florida Invitational. The Bulldogs played four games against Saint Peter's, Central Michigan, Pittsburgh, and Hofstra.
Game One vs. Saint Peter's 
Butler came out hot in the first game , scoring nine runs in the first three innings and a huge six spot in the in the seventh.
The Bulldogs combined for 16 hits in the 21-7 offensive blowout. Big game from Butler right fielder Harrison Freed, who went 4-5 with seven RBI's.
Game Two vs. Central Michigan
Game two was much more closely contested than the first.
After going down 1-0 in the first inning the Bulldogs scored five unanswered runs to defeat the Chippewa's by a final score of 5-1.
A clutch RBI single by Harrison Freed in the fifth and a sacrifice fly by Connor Dall helped secure the win.
A good combined pitching effort by Ryan Pepiot and Jack Myers only allowing one run.
Game Three vs. Pittsburgh
Game three was a high intensity game going back and forth and finishing in extra innings.
The Bulldogs took the lead in the first going up 1-0. Starting pitcher Same Hubbe did his job shutting out the Panthers through five innings.
The game was tied at three after a full nine innings. In the bottom of the tenth, Pittsburgh left fielder Ron Washington Jr. hit a walk-off single.
Both offenses had trouble getting going, but the Panthers came out with the 4-3 win.
Game Four vs. Hofstra
Butler came back with the bats in the final game of the invitational, putting up seven runs in the first five innings.
The Bulldogs offense could not be stopped in this game beating Hofstra 10-5.
Big games again from Butler's Kyle Smith and Harrison Freed, who combined for seven RBI's in the victory.
The Bulldogs now have a .500 record at 5-5 and look to move forward in the season. Their next game is at home against Purdue Fort Wayne on March 8th.