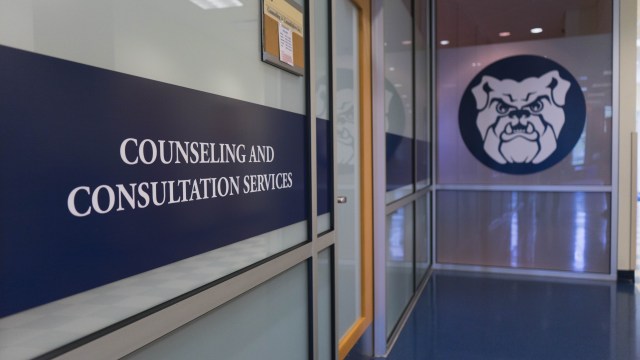 The dominoes began to fall quickly for Butler junior Gabe Diederich.

On March 7th, Diederich and a group of friends arrived at South Padre Island off of the coast of Texas to begin their spring break. Five days later, the Big East Tournament, all NCAA tournaments, and the NBA season were all cancelled in order to prevent the spread of coronavirus.

As a diehard Butler basketball fan since 2012, Diederich was devastated. He had been following the program closely ever since its back-to-back National Championship appearances.

"That's what hurts. They were so good that anything could've happened," he said. "They could've made a run and gone to the Final Four again."

Diederich was also unable to watch his favorite player, Sean McDermott, finish out his senior season. When he watched emotionally from the student section as McDermott said his parting words to the crowd at Hinkle Fieldhouse, Diederich didn't know that it would be the last time he'd watch McDermott play in person.

By the time Diederich arrived back home to Elmhurst, Illinois on March 15th, the entire sports world was put on hold and he would be unable to return to campus for the time being. Two days later, he found out that he would be taking online classes for the rest of the semester.

What this meant for Diederich is that his on-campus job as an intramural referee would be over, as well as his internship as an assistant athletic director at Zionsville Middle School. As a Human Movement and Health Science Education major, he was looking forward to the valuable experiences that would help him in his career path.

Not only would he be returning home with no internship, no income, and no sports, but he also had to be extremely cautious around his seven-week-old baby brother.

"I'm extremely paranoid and a severe hypochondriac," he stated. "So, when I came back, I was extremely worried that I would give him the virus."

Diederich decided to isolate himself in his basement and not leave that floor of his house except for food or if he absolutely had to. In the face of crushing boredom, he found himself unable to do the things that give him joy, like being with friends, working out and watching sports.

"It's tough to adjust your entire lifestyle to something that you've never done before and change everything that you were used to," he said.

Dr. Shana Markle, Associate Director of Counseling and Consultation Services at Butler, is a licensed psychologist. She is well aware of the impact that this pandemic has on mental health, and she was able to give her expert insight into what sports fans might be feeling right now.

"Sports provide people with a sense of meaning and purpose," Markle began. "Without sports there is nothing to be a fan of and the loss of that community can result in feeling lonely, empty and unfulfilled."

Markle emphasized the way that sports provide of sense of stability and security for many people, and it may feel like a significant and painful loss to have that taken away.

"The feeling that everything that was important and meaningful has been stripped away is a natural response, especially for high school and college students," she said. "The impact of the losses can result in loss of motivation, feeling sad or down, difficulty with sustained concentration, feeling anxious, procrastination, and feeling numb."

However, hope is nowhere near lost. Markle was sure to proclaim a message of positivity in a way that any sports fan can relate to.

"Like when our team is the underdog and we rally together and believe that a miracle can happen, we come together now, even if virtually, to support one another until we can return to better times," she stated.

Counseling and Consultation Services is still a readily available resource for students and can be reached at (317) 940-9385. Those who leave a message can expect a response within the next business day. The national suicide hotline (800) 273-8255 is open 24/7.