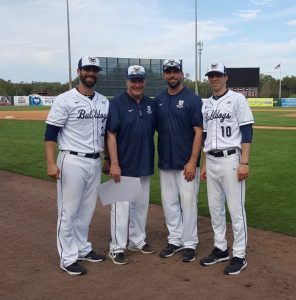 The world has shifted into a confusing series of events with the unprecedented circumstance of the coronavirus. But even before this crisis broke out, the Butler Baseball program had to work through a change regarding its program alone: Head Coach Dave Schrage taking a medical leave of absence, and Pitching Coach Ben Norton acting as Head Coach for the 2020 season. I was able to catch up with Norton about his brief time from this season on the head coaching side, along with the pandemic situation.
Chelsea Groves: You came in with Coach Schrage when he was named head coach of this program on July 5th, 2016. You played for him when he coached at Evansville, and have been connected with him ever since. When did your rapport with Coach Schrage take off in terms of the coaching, which led you to the position you are in today at Butler?
Ben Norton: Our relationship started back in 2006 when I played for him. I got recruited by him in junior college to play for him at the University of Evansville. He had respect for all of his student-athletes that he coached, and that is the one thing that really stood out to me when I decided to come and play for him. When he left for a head coaching job at Notre Dame, I still had one year remaining at Evansville, and we still stayed in contact during my senior year at Evansville. I didn't know that I wanted to, but with a career-ending injury while playing for a Kansas City Royals minor league team in Idaho Falls, I needed to do something that involved the sport. I always enjoyed being around the guys and helping them, so I started coaching a 14U travel team. Our team happened to play in a tournament at Notre Dame, where Schrage was at, and he asked me right there if I wanted to get into college coaching. I told him that I was open to anything, and he connected me with one of his friends who coaching at the University of Illinois-Springfield at the time back in 2010. Two years later, he went to South Dakota State to be their head coach, and I went with him. That is when our relationship on the coaching side really took off. He let me take care of all of the pitchers at SDSU and let me learn as I went, which was what I needed. It helped that we had a strong first year there in 2012, where we went to a Regional that year. The pitching staff was great. It helped him build some trust in me and helped me build some trust in him. When he got the job here at Butler in the summer of 2016, one of his first calls was to me. I have really enjoyed my time with him, and here I am four years later. It's been good ever since. I am confident in this position because of him."
CG: Before you became the Interim Head Coach, you were the Pitching Coach for this program. What did your day-to-day schedule look like before you were delegated the extra responsibilities?
BN: There are 18 guys on a pitching staff at any college. I think it's challenging and every day is different, which is awesome. I put together a plan for all of the guys, pretty much a throwing program and a calendar along with it. You have to understand that each guy is an individual, and they are all coming in with different stuff, so I am always aware of that. Day-to-day, you are going to have guys on the mound, but at the same time there are going to be guys who are just throwing and doing different drills, and I've learned that I need to trust them when it comes to personal development. And when it comes to game time, that's different. It's all situational.
Q: You were primarily involved only on the pitching side of things for the past four seasons. To follow up with the previous question, what did your role look like as the Interim Head Coach for the first 15 games of this season, until it ended?
A: I had to rely heavily on the other coaches, Matt Kennedy and Jake Ratz, who are also new to the program, to do what they are supposed to do. Kennedy and Ratz did a great job helping me with only being six weeks into the job technically. Some of the challenges for me personally were just looking ahead in games, making sure you get your guys in the right situation to succeed, and not just thinking pitch by pitch anymore. I had to think innings ahead, think about situations for the other team, like realizing that they are bringing in another pitcher, switching our pitchers around, changing the lineup, and just making those final decisions. Coach Schrage has done a great job through my eight years with him and has led me and coached me to execute in those positions. I give him so much credit with what he did for me, and what he taught me."
CG: I want to rewind back to when the team was addressed about Coach Schrage not be able to coach this season in late February. How did the team react to the news?
BN: We were addressed after our first series in Lexington. He came out before practice following that, and told the guys that he was going to go on leave. It was a mixed reaction from the guys. They all wanted him to be there of course. They understood that he needed to take care of his health, so he could maybe come back with us at some point during the season, which of course ended. We were supposed to play in a series in South Carolina the following week we found out, and our flights actually got cancelled, so we played at Grand Park against Western Illinois. I mention that because Coach Schrage lives five minutes away from Grand Park, and he sat in the press box and watched, which was the best thing. It's almost like it helped the situation, and guys just had to keep plugging away.
CG: Lastly, your team got off to a 6-0 start. You ended the shortened season 8-7. When did you all find out about the season coming to the quick end, and what does communication look like now? Where do things go from here?
A: We had some ups and downs this season. We started 6-0, then got swept by Evansville, and played Central Florida tight. When we got back from Florida, we got the news that the BIG EAST called everything off. I let the team know, and it had to be tough. They were devastated. I've been a student-athlete, but I've never had a situation where someone else told us that our season is done. It was disheartening for the guys. Everyone had a different situation with multiple classes represented. The freshman probably didn't know much, but the juniors and seniors were probably questioning their eligibility. But I think the guys did a good job handling it. We were fortunate enough to keep our guys around a little longer as a prelude to a couple teams breakfasts and meals where I was able to see them and interact. And as for right now, our strength coach, Will Birch, sends them workout programs that consist of things to do at home. I have sent things for our pitchers to do, kind of like a throwing program. I just wanted them to all be prepared if summer ball ends up happening at some point, because most of our guys are going to be playing somewhere this summer. And most importantly, I hope the guys are taking care of themselves physically and psychologically right now. I'd like to meet with them once a week until the end of the semester, because it's great to see faces. We want to do a weekly meeting to answer any questions that may include eligibility too, and have our individual meetings through Zoom to talk about the future. We look forward to having Coach Schrage back with us soon."