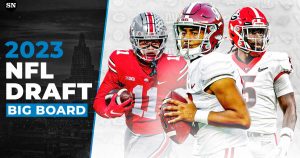 By Lorenzo Vergara
As the 2023 NFL Draft approaches, fans and analysts alike are eagerly anticipating one of the biggest events on the football calendar. This year's draft promises to be a fascinating one, with a deep pool of talent available across all positions and several teams in need of a game-changing player to help take them to the next level.
At the top of the draft board are the Carolina Panthers, who own the first overall pick after trading with the Chicago Bears. The Panthers are in desperate need of a franchise quarterback, and all signs point to them selecting Alabama signal-caller Bryce Young with the first pick. Young is widely regarded as the top quarterback in this year's draft class, with his combination of arm talent, athleticism, and poise under pressure making him a potentially elite player at the next level.
Behind the Panthers, there are several teams in need of a quarterback who could potentially trade up to secure their man. The Houston Texans, who own the second overall pick, are a prime candidate, as they continue to search for a long-term solution at the position following the departure of Deshaun Watson. Other teams that could potentially make a move include the Raiders and Colts, who have been linked to Young in recent mock drafts.
Beyond the quarterback position, there are several other players who are expected to hear their names called early in the draft. At the top of the list is Alabama defensive end Will Anderson Jr, who is widely regarded as the top prospect in this year's class. Anderson is a dominant pass rusher with the size, speed, and technique to wreak havoc on opposing quarterbacks at the next level. He is a lock to be a top-five pick and could potentially go as high as the second overall selection.
Other top prospects include Texas running back Bijan Robinson, who is a dynamic playmaker with the speed and agility to create separation from defenders and make big plays downfield. He is expected to be one of the first running backs off the board and could potentially go in the top 10 picks. On the defensive side of the ball, Illinois cornerback Devon Witherspoon is a player to watch, with his combination of size, speed, and ball skills making him a potential shutdown corner in the NFL.
Overall, the 2023 NFL Draft promises to be a fascinating event, with several teams in need of game-changing talent and a deep pool of prospects available. Whether it's a franchise quarterback, a dominant pass rusher, or a dynamic playmaker at another position, there will be plenty of players who could make an immediate impact on their new teams and potentially become stars in the NFL for years to come.