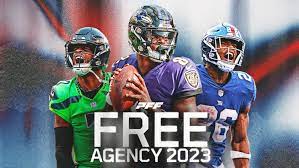 By Nathaniel Walker
Every year, NFL Free Agency is full of genius moves and bonehead decisions and this year is no different. Teams are always looking to fill their holes while other teams are losing players and creating holes on their rosters. I am going to break down a few of the biggest winners and losers from free agency so far.
WINNERS
Detroit Lions
The Lions were already a team that loaded up and had promise last season. With one of the league's best scoring offenses, they were a tough team to beat but their defense couldn't stop anybody which ultimately held them back. They definitely made an effort to address that with this year's signings. Signing the trio of Cameron Sutton, Emmanuel Moseley, and C.J. Gardner-Johnson completely reshapes and solidifies their secondary and provides them with flexibility in their defensive looks and coverages. Having Gardner-Johnson on a one-year "prove it" deal should ensure they get the best out of him as they try to build on last year's success.
Justin Fields
At the end of the season, Justin Fields' head was on the chopping block by many. Even though he had only been in the league for a short time, many people felt that the Bears should either trade him for an upgrade at quarterback or go back into the draft and use their first overall pick for one of the top QB prospects. However, when the Bears traded their first overall pick to the Panthers, they sent a huge message to Justin Fields that he is the quarterback that they want to move forward with. They have 10 picks coming up in the draft as well, so expect them to use at least a few of those to surround him with a few more playmakers.
LOSERS
Kansas City Chiefs
Even during their reign of dominance for the past few years, one of the issues that occasionally rears its ugly head at the Chiefs is inconsistent offensive line play. The Chiefs are at their best when Mahomes is standing up and running around because he wants to, not when he is forced from the pocket every single snap. Letting Orlando Brown Jr. walk was painful, but it made sense when you looked at how much the Bengals decided to pay him. But then when the Chiefs went and replaces him with Juwan Taylor for even more money, the whole situation seemed to get confusing. The Chiefs are a team that you assume always has a plan or a few tricks up their sleeve and they might need to whip them out in the regular season depending on how this offensive line looks.
Baltimore Ravens
Lamar Jackson loves Baltimore. Baltimore loves Lamar Jackson. It seems simple but the two sides have struggled to agree on a dollar figure for the past year and some change and now it's at the point where Lamar is getting the franchise tag. The two sides still have time to reach a long-term extension but now Lamar has very little security and the Ravens have just about all of their cap flexibility tied up in his franchise tag which really limits what they can do with the rest of the team and with the playmakers that he wants around him.