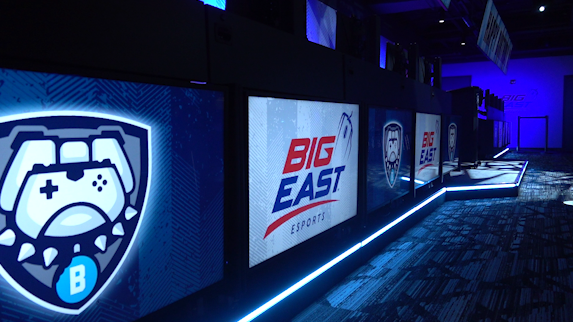 The BIG EAST announced that the ESports Championship will be hosted at Butler's ESports Park this March.
The 2022-23 Rocket League and League of Legends BIG EAST Tournament and Championships will be taking place March 24-26 at the brand new facility located on Butler University's campus. The Butler ESports Park, which opened up on October 21, is a 7,500 square-foot arena that is a main resource for tech, gaming, and academic communities in Indianapolis. Earlier this year, BIG EAST Commissioner, Val Ackerman, praised Butler's efforts on the construction of the new building, stating,
"We applaud Butler's leadership in this area and expect this spectacular state-of-the-art facility to serve as the perfect venue for our ESports participants this year and beyond".
The League of Legends Championship format will update to a four-team split bracket, with the opening round scheduled on Saturday, March 25, with the championship on Sunday, March 26. Following the conclusion of the Rocket League regular season, all nine BIG EAST programs will compete for the Conference Championship. The top two finishers in the Rocket League championship will receive automatic bids into the EGF Rocket League National Championship.
As for Butler's very own ESports team, the squad consists of four players for the two tournaments. Aidan Muchnicki, known as Cardinal, Cameron Walker, known as kai, Javier Morales, known as mxrales, and Nick Hamilton, known as nham, look to take home the championships on their home court.
Be sure to head to Butler's ESports Park from March 24-26 to see the Bulldogs compete against some of the best competition the BIG EAST has to offer.