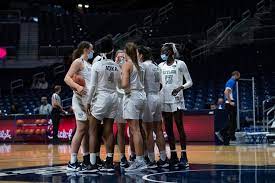 Although the Butler Women's Basketball season may have not gone to plan so far, there is still a lot to build on for a new team going into the Big East Tournament. With just two games left in the regular season, the Lady Dawgs are currently on a three game losing streak. Starting with a narrow 63-62 at Providence, the Dawgs returned to Hinkle Fieldhouse and continued their winning ways beating Georgetown and Xavier. Just Yesterday, the Dawgs trounced the Musketeers 60-43. Sydney Janes and Rachel Mclimore.
The Lady Dawgs round out their schedule at home against Seaton Hall on Friday where they will then travel to Omaha to face Creighton.
Look for the Dawgs to finish off their less than stellar season on a high note as they look forward to the Big East Tournament at Mohegan Sun Arena in Connecticut.

Currently, Butler sits at 9th in the Big East Standings but are only just half a game behind Georgetown who sits in 8th place. Regardless of if the Lady Dawgs can jump the Hoyas, they will most likely play their bulldog counterpart in the 8/9 matchup in the first round of the tournament. The hill would then get a little tougher to climb if they win their first round game as they would face #1 seeded Uconn. Uconn however only holds a slight one game lead on Villanova in the Big East standings. 
If the Dawgs can advance to the second round of the Big East tournament, they will have the potential to end the season on a high note with a potential NIT bid on the horizon.