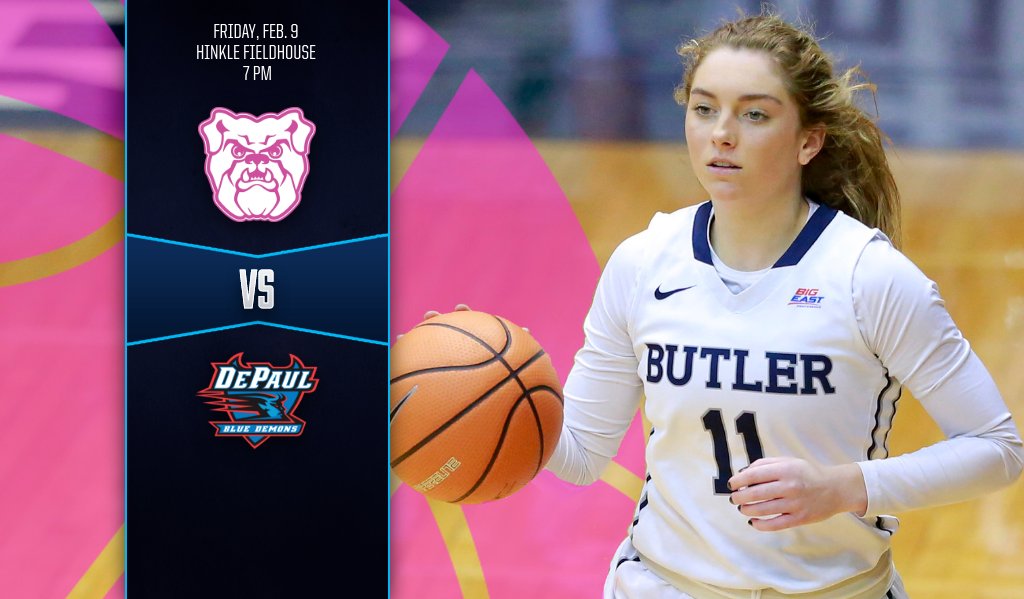 Photo courtesy of Butler Women's Basketball Twitter (@ButlerUWBB).
Butler's women's basketball team returns home this weekend to face DePaul and Marquette following their two game, two loss road trip. The Bulldogs faced St. John's and Seton Hall last week losing 38-76 and 64-75, respectively. The competition doesn't get any easier at home. DePaul is first in the Big East with a 10-2 conference record. Marquette is right behind them with a 9-3 conference record. 
The Blue Demons come to Hinkle having won their last four games. Three-point shooting is a large part of DePaul's offense, making on average 12 threes a game compared to their opponents five. Junior forward Mart'e Grays is shooting 40% from three. Tied with Grays is junior guard Ashton Millender, who is also shooting 40% from deep.
The last time these teams met DePaul won 87-65. Butler redshirt junior guard Whitney Jennings led the team with 18 points. Junior forward Tori Schickel wasn't far behind finishing with 17 points and eight rebounds. The Blue Demons have never lost to the Bulldogs in their previous 14 meetings.
The Bulldogs will face the Marquette Golden Eagles on Sunday with a 1 p.m. start time. The Golden Eagles are led by junior guard Allazia Blocktin. Blocktin was named the Big East Preseason Player of the Year and has lived up to the title so far this season. Blocktin leads the team and the conference averaging 18.9 points per game and also contributes defensively notching 26 steals and six blocks on the season. Marquette will play Xavier Friday on the road before heading to Hinkle.
Butler rallied back in their last game against the Golden Eagles, but couldn't finish it out, losing 67-69. Butler led 67-63 with about two minutes to go following a clutch three-pointer from sophomore guard Kristen Spolyar. Marquette closed the game out on a 6-0 run with Blocktin scoring the last four points for the Golden Eagles. Marquette leads the all-time series with 10 wins.
The Bulldogs will need to control the boards if they want to win. Butler is currently out rebounding opponents by a margin of four. Schickel leads the team averaging about 10 rebounds a game. Another key will be getting to the foul line. The Bulldogs are tied for first in the Big East shooting near 76% from the line. Jennings is shooting 86% from the line with Schickel right behind her shooting 76%. Jennings has been shooting 7 threes a game averaging 37% from deep. Schickel has been great from the field leading the team with a 54% field goal percentage. Schickel will look to continue her scoring streak pushing her double-figure scoring games to 15 straight. Friday's game against Depaul will be a pink game promoting breast cancer awareness. Sunday's game against Marquette will be senior night where the Bulldogs will honor Sydney Buck, Kaela Hodges, and Iman Lathan.