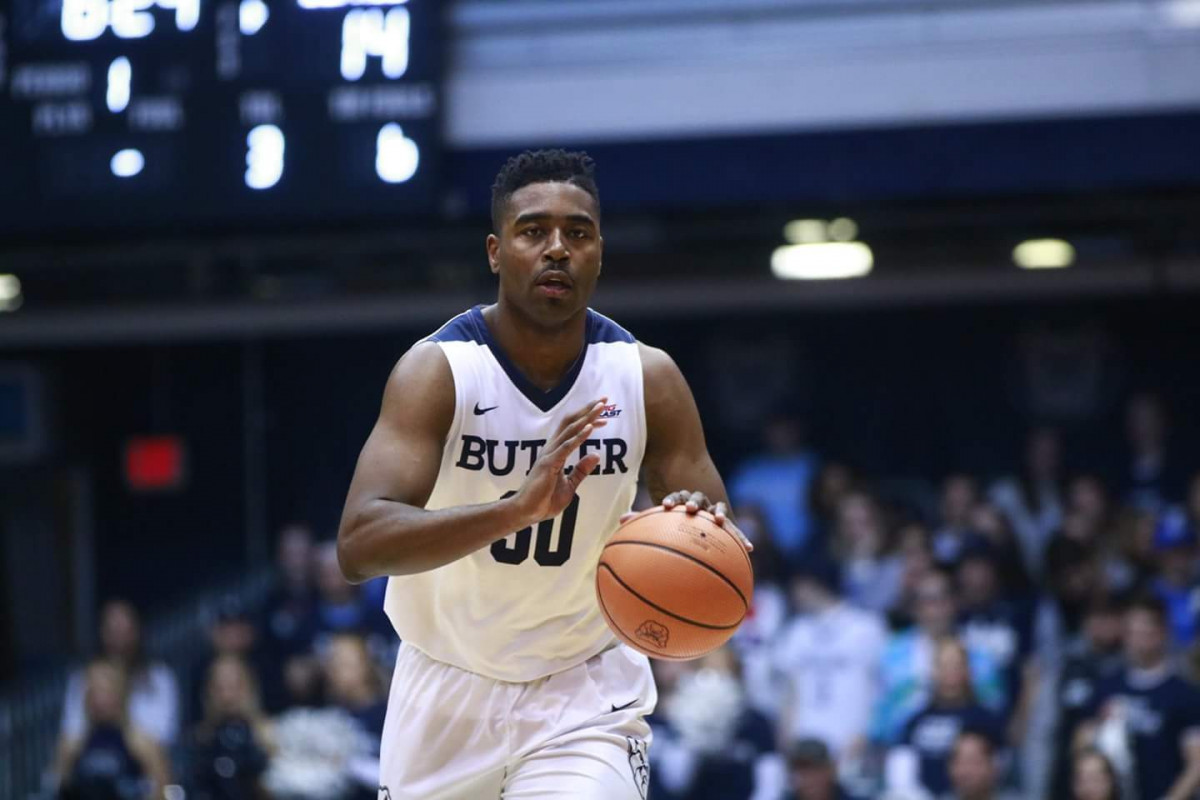 Butler men's basketball plowed through DePaul on a strong defensive performance at Hinkle Fieldhouse. Butler's defense shut down DePaul's best players and pressured the Blue Demon offense into taking tough shots and making bad turnovers, leading to an 80-57 win.
DePaul turned the ball over 23 times in the loss, which allowed Butler to get out in transition and run for easy dunks and layups. Eli Cain, arguably DePaul's strongest offensive player, coughed up the ball a team high five times, thanks to the tough defense of Butler's Kelan Martin, Henry Baddley and Kamar Baldwin.
Not only did Butler's defense force turnovers, but they made life difficult for DePaul from the field as well. The Blue Demons shot just 39 percent from the floor in the contest and 25 percent from 3-point range.
Max Strus, Marin Maric, Eli Cain and Tre'Darius McCallum were the Blue Demons' leading scorers, combining for over 50 points per game on average. Butler's defense was on its game, holding the four to just 33 combined points. Eli Cain, who averages nearly 12 points per game, was held to just two points, and was 0-6 in shooting from the field.
Kelan Martin played a great all-around game. The senior forward had 26 points, six rebounds, six assists, two steals and two blocks in the contest.
Three other Bulldogs reached double figures. Paul Jorgensen scored 13 points, grabbed four rebounds and dished out four assists in the game. Kamar Baldwin scored 10 and had four steals, and Sean McDermott had 10 points after coming off the bench for Butler.
Free throws played a huge role in today's game. Thirty-five free throws were attempted at Hinkle Fieldhouse this afternoon, with Butler making 16 of 17 and DePaul making 14 of 18. Multiple times, Butler bailed out DePaul's struggling offense by fouling late in the shot clock, allowing them to get to the line and keep the score close for much of the first half. In the second half, Butler pulled away and cemented their lead by pouring in long balls from Jorgensen, Baldwin and McDermott.
One highlight of the game was when freshman walk-on Campbell Donovan checked into the game and proceeded to knock down a corner three with a minute left. Hinkle Fieldhouse erupted with cheers for the Bulldog newcomer.
With the win, Butler advances to 7-4 in conference play. In their next game, the Bulldogs will take on Xavier at home. Xavier is currently ranked 6th in the nation.
DePaul is now just 2-8 in Big East play, and will return home to face Creighton next week.