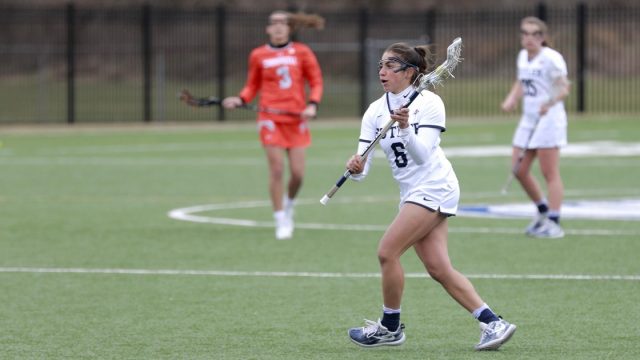 By Eddie Wilde
The hardened Butler Women's lacrosse team starts off their 2020 season with a balanced non-conference schedule. The Bulldogs will start at Varsity Field with two games against Hanover College and Detroit Mercy. Hanover College will provide fierce competition from a division-three school before the Bulldogs battle Detroit Mercy just a few days later. Last year, the Bulldogs played a very close first half to Detroit Mercy but couldn't find much offense in the second half. Butler has lost their last four contests against Detroit Mercy. After this home stint the Bulldogs travel for three games.
On their first road campaign the Bulldogs travel to Central Michigan University. This game is a rematch from last year as Central Michigan won the contest 16-6. In the second half, the Bulldogs showed improvement on the offensive end but couldn't mount a comeback. Next for the Bulldogs they journey to northeast Ohio to face off against Kent State and Akron University. Both teams the Bulldogs are evenly matched. Kent State is one of the Bulldogs three wins last year defeating Kent State 13-10. Akron University is in their inaugural season of division one women's lacrosse.
Next the Bulldogs have one home game against Presbyterian College then will travel again for three games. Presbyterian College beat Butler back in 2017 during the Bulldog's first season. This season, Butler has nine seniors and twelve juniors. A core group ready to lead with many younger players taking the lead and stepping into big positions. This year the Bulldogs will be able to compete head to head with Presbyterian College.
In the next three games the Bulldogs will travel to Robert Morris University, St. Bonaventure University and the University of Louisville. This will be the Bulldogs first time against Robert Morris who ranked 52nd in scoring offense last year. The Bulldogs ranked 108th in scoring defense last year allowing 15.5 goals a game. One of the Bulldog's three wins last year was against Bonaventure. The Bulldogs won the game by a small margin of 10-8. Last stop on their road trip the Bulldogs will face off against the University of Louisville who beat the Bulldogs 15-5 in the 2019 season.
Once the three game road streak is over the Bulldogs will have a home game versus Gardner-Webb University. Last year the Bulldogs almost pulled off a comeback in the second half, scoring eight unanswered goals to take the lead until the final three minutes when Gardner-Webb scored two goals to win the game. The Bulldogs look to have their best season yet with veterans on the defensive end as well as a trio of goalies available to play when needed. The Bulldogs start Big East competition against Denver in late march.