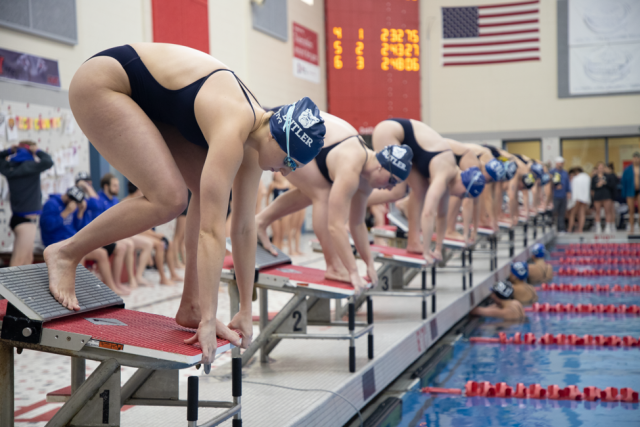 On Sunday, January 26, the Butler swim team swam to a third place finish. Saint Louis won the meet with a score of 762 points just ahead of Xavier who totaled 746.
The bulldogs finished ahead of Youngstown State and Eastern Illinois with a score of 337. This was the final meet before Butler heads to the Big East Diving and Swimming Championship on February 26th in New York City.
Butler's top swimmer to watch at the Big East Championship is Hannah Pugh who swims the 100 M and 200 M Backstroke and Individual Medley. She ranks 14th overall for 100 M Backstroke and ranks in the top 10 for the 200 M. Pugh is also tied for 11th with Villanova's Anastasia Kontrimas for the 200 Medley.
Another top Bulldog to look out for is Annah Van Gheem. Gheem specializes in the 50 M Freestyle and the 100 M and 200 M Butterfly. She ranks 11th overall for the Freestyle in the Big East. For Butterfly, she ranks 13th for the 100 M and 11th for the 200 M. These two underclassmen look to help lead Butler to another successful Big East Championship.
Butler currently ranks 5th in the Big East overall. Number one in the conference is Villanova leading by a decisive 721 points. In
second is Xavier followed by Georgetown and Seton Hall. The Bulldogs have a total of 636 points despite being the only team in the Big East without a diving team.
The Butler swim team is at a big disadvantage without a diving team. The team scores for swimming and diving are combined leaving Butler missing out on extra points. The Bulldogs will take reduced scoring in each individual event to try to spread their points among all the events. This way Butler can reach a higher total point threshold and rank higher as a team.
Butler's strategy for the Big East is to focus primarily on the 200 Medley Relay and the 400 Freestyle relay. This is due to the fact that at meets relays give the most team points. Butler will optimize its team for the relay to be as fast as possible to gain the most points. Coaches will also pick the most versatile scoring team to score the maximum number of total points.
The Butler Swim team is currently focusing on getting ready for the Big East Championships. They will be training hard these next two weeks to work on strength and endurance. The week before the Championship they will have a week of reduced training to rest up. After that, the scoring team will be selected and the Bulldogs will be off to New York.