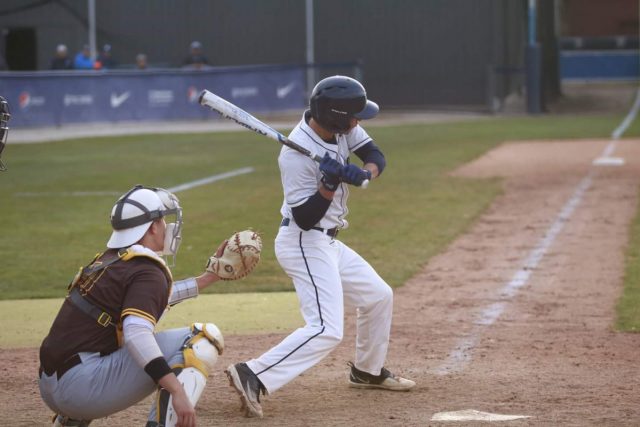 Sophomore Zach Jarosz stands at the plate in Butler's 9-2 loss to Valparaiso. Photo by Jimmy Lafakis.
Butler's baseball team split a pair of home games this week, knocking of St. Francis 11-1 on March 22 and falling to Valparaiso 9-2 on March 23.
Duncan Hewitt swung a hot bat for Butler, going 3-3 in the game against the Cougars with two doubles and a triple, and driving in two runs.
St. Francis's only run came in the third inning when first baseman, Tyler Prince, was hit by a pitch with the bases loaded.
The game was fairly close up until the fourth inning where Butler's offense exploded to knock in seven runs. RBI from Hewitt, as well as seniors Tyler Houston, Garrett Christman, and sophomores Connor Christman and Zach Jarosz busted the game wide open and lead to the Butler victory.
In the game against Valparaiso, the Dawgs did not see the same offensive firepower. The Crusaders scored six runs in the third inning, coming at the hands of two errors by Butler's defense.
Butler would answer in the eighth inning, scoring two runs on a double down the right field line by senior outfielder Gehrig Parker, but it was too little too late as the Bulldogs took their forth loss of the season.
Junior pitcher Connor Mitchell took his first loss of the year, despite giving up just one earned run and no extra-base hits over five innings pitched.
Butler was scheduled to play two more games against Valparaiso this weekend, but the snow that rolled into Indianapolis led to the cancellation of the final two games.
Butler will be back in action this week at Bulldog Park against Anderson on March 27. Anderson is 11-10 on the season, and lost their last game to Manchester University. Later, the Dawgs will travel to Bloomington for a three game series with Indiana University starting on March 29. The Hoosiers are 16-5 and play Indiana State before hosting Butler.