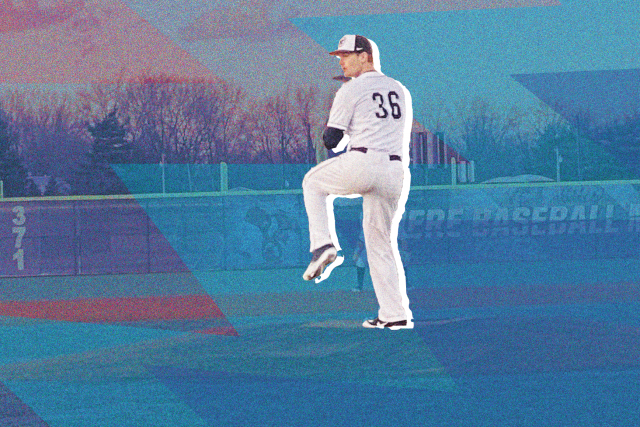 One last series. One last game. One last pitch.
Thoughts like these fill the minds of Butler baseball's senior pitchers. For Scott Wright, those thoughts take on a different perspective. While the senior was gearing up for graduation prior to the COVID-19 pandemic, his career on the mound was just getting going.
Wright was a three-time all-conference performer at Sunset High School in Portland, OR. Following setbacks linked to an injury, his hopes of pitching collegiately faded. After transferring from Baylor University in the spring of 2018, Wright's mission was clear: make the Butler baseball team.
Butler 360 Sports got the chance to sit down with Wright and discuss his journey from high school standout, to earning a spot on the Bulldogs roster in 2020.
You played football and basketball growing up, but baseball was the sport you dedicated most of your time and training to. What is special about the sport to you?
As a pitcher you have the ability to control the game. You're one-on-one with the batter, and until the ball is put in play, it's on you to get the job done. In high school, I felt baseball gave me the best chance to play sports in college. I also just enjoyed playing it more than other sports due to the the way you're one-on-one with the other team.
Talk to us about your injury in high school. How did it affect your recruitment? 
A couple weeks into my junior year, I had a partially torn ligament in my elbow that pretty much stopped me from pitching my last two years of high school. Schools I had talked to were interested in me as a pitcher, so once I wasn't able to pitch anymore they didn't have a reason to keep recruiting me.
What was the process like to gain the attention of Butler coaches once you got on campus?
Once I got there, I knew I would have to wait at least a year to try out since I recently had [Tommy John] surgery. There really wasn't a whole lot of communication between the coaches and me before I tried out this fall. It was basically me letting them know I was interested in trying out and they let me know when there was going to be a tryout.
What were tryouts like? What do you think about your performance made them interested in adding you to the roster?
The initial tryout was only about 15-20 pitches, so I think that was hard to get a good feel for if they wanted to give me a spot right then and there. After that, they let me practice with the team and pitch in scrimmages. During our fall World Series, I was put in during some high pressure situations and I performed really well. That made me feel good about the progress I was making after not pitching for awhile. It also gave the coaches and other players confidence that I could handle the pressure and be successful in those situations.
Your first season with the team was sadly cut short. How did the team react to the cancellation news?
I've really enjoyed my time on the team so far. Part of what made me want to try out was that I missed the camaraderie with teammates and that was fun to be apart of again. We were definitely in shock when we heard. The Big East was one of the last conferences to cancel the season, but once we heard the college World Series was cancelled we knew that we probably would cancel as well. Initially we didn't know much about what was next, especially with eligibility, so it was tough not knowing.
Looking forward, what is your plan for the years to come?
As of now, I'm planning on returning to play. I didn't want to end on a cancelled season after going through surgery and finally playing college baseball. There's still a few details up in the air, but hopefully I'll know a little more in the coming weeks to what next fall will look like when things get started back up.
---
Wright is among the long list of Butler student-athletes who were granted an additional year of eligibility by the NCAA due to COVID-19. Even with graduation approaching next month, Wright's Bulldog career is just getting rolling.
If you want Butler sports content, Butler 360 Sports is the go-to place! Keep checking back for the latest news, updates, and articles covering everything from basketball to lacrosse.