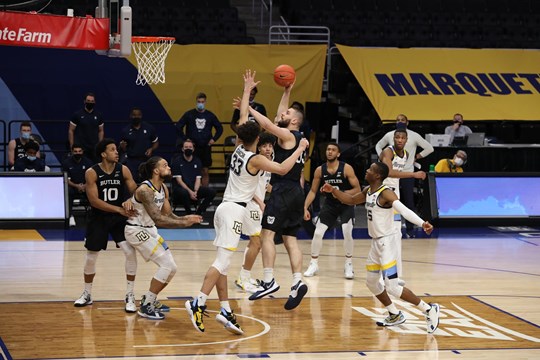 The Butler Men's Basketball team fell on the road to the Marquette Golden Eagles 67-70 Tuesday evening. The Bulldogs fall to 5-10 on the season as the Golden Eagles improve to 9-9.
Both teams' defenses started out strong as they held each other under single digits until the twelve minute mark of the first half.
After a slow start on offense, the Golden Eagles got into form and would establish a 33-21 lead going into the second half— with all 33 points coming from their starters.
The Golden Eagles were led by sophomore guard D.J. Carton and senior guard Koby McEwen— who would both go on to finish the game with 18 points.
Bulldogs junior forward Bryce Golden suffered a head injury at the nine minute mark in the first half, but would return in the second half to finish out the contest.
The Golden Eagles would continue to pad their lead in the second half, stretching it to 18 points with twelve minutes remaining to play.
However, the Bulldogs would continue to climb their way back into the game as time began to wind down.
Bulldogs freshman point guard Chuck Harris led the comeback attempt as he scored 13 points in the second half alone. Harris would go on to finish the game with 16 points while shooting 5/8 from the field (4/5 from 3-point, 2-2 ft).
The Bulldogs rallied back, cutting the lead down to two points with 18 seconds left to play in the contest. 
In the final seconds, the Bulldogs had a chance to send the game into overtime, but senior guard Jair Bolden would miss the game tying 3-pointer— ultimately leading to the Golden Eagles pulling away with the victory in the end. 
This loss by the Bulldogs has resulted in the team losing the last five-out-of-six games to the Golden Eagles stretching back to 2019. This also extends the Bulldogs losing streak to three games in a row.
The Bulldogs next chance to snap their skid will be at home against the DePaul University Blue Devils on Feb. 5th at Hinkle Fieldhouse at noon on FS1.