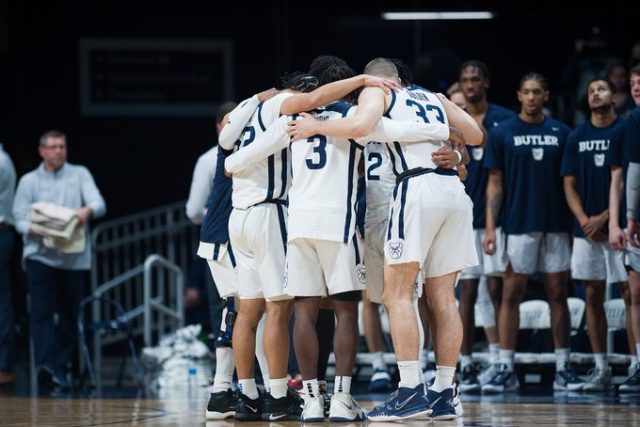 The Butler Bulldogs men's basketball team dropped their third game in a row Thursday night to UConn by a score of 75-56. The Dawgs faced the Huskies in back-to-back contests this week, losing their first matchup to UConn 76-59 on Tuesday.
Chuck Harris scored a Butler team-high 16 points in the loss, his most since scoring 26 against Oklahoma on Dec. 7. UConn was led by guard Tyrese Martin, who scored 25 of his 27 points in the second half. Butler's record will hit .500 at 9-9 after the loss and the Dawgs will fall to 2-5 in Big East play.
LaVall Jordan's team looked determined in the first half after losing big to UConn just two nights earlier. While the Dawgs didn't shoot tremendously well in the first half (39.3%), they were able to hold the Huskies to a 28.6% clip from the field.
After being outrebounded by 10 on Tuesday, Butler kept par with UConn in the first half on the glass, only trailing 22-19 in that department after the first 20 minutes. Great defense, effort, and the resurgence of Chuck Harris (10p, 3/5 in the first half) led to the Dawgs leading by a score of 28-24 at halftime.
However, the Dawgs were not able to ride this momentum into the second half.
UConn charged back in front, riding a 9-0 run heading into the first TV timeout to lead 33-30. The Dawgs and the Huskies would go back and forth throughout the majority of the second half, with UConn consistently maintaining a single-digit lead.
It wasn't until around the 7:00 minute mark when UConn started to pull away. Costly turnovers began leading to quick and easy UConn baskets, and ultimately put the nail in the coffin for any comeback hopes from Butler.
Tyrese Martin was sensational for UConn down the stretch, scoring 25 in the second half and making each of his last seven shot attempts.
Butler's tough stretch of top-25 ranked opponents will continue on Sunday, January 23rd as they travel to Providence to take on the #21 ranked Friars. The Dawgs have faced a top-25 team in 5 of their last 6 contests, dating back to a home loss against Seton Hall on January 4th. This will be Butler's first matchup against Providence this season.