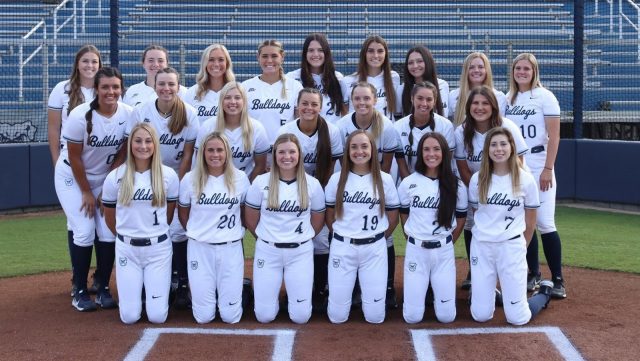 We might still be in the cold of an Indianapolis winter but the signs of spring are on the way, and one of the biggest is opening day for the Butler softball team.
The Bulldogs open their season at the DePaul Dome Tournament with games against Valparaiso, Bowling Green, Murray State, St. Thomas, and Western Illinois. Their first game will be Thursday night against the Valpo Beacons.
Butler was picked to finish fifth in the 2022 BIG EAST Preseason Coaches Poll, with Villanova tabbed to come out on top receiving a conference-leading six first-place votes. This would match their fifth-place finish of a season ago when they finished the season with a 17-21 record overall and a 6-6 record within the conference.
The core of the team returns with all five Butler pitchers who made an appearance in 2021 returning and nine of their top ten offensive players returning as well. Butler's all-time single-season batting average leader, Lauren Fey, will return to lead the offense after hitting the record-setting mark of .433 last season. Fey returns as a graduate student taking advantage of the extra year of eligibility granted due to the COVID-19 pandemic.
Karli Ricketts returns for her senior campaign and will certainly be a force both on the mound and at the plate after leading the team in both home runs and strikeouts just a season ago. Ricketts enters the year already in the school's top ten all-time in home runs (sixth), strikeouts (ninth), and shutouts (ninth).
Both Fey and Ricketts were named All-BIG EAST First Team selections in 2021.
Transferring from Ball State to join Butler for her first season of eligibility is Paige Dorsett. Dorsett is penciled in to get time at first base and get a significant number of at-bats after slugging .875 in high school.
Conference play will open just about a month from the time of writing this with a three-game series at Villanova beginning on March 11. The Bulldogs home opener will come a few weeks later against the Seton Hall Pirates on March 25.
A storyline to watch as Butler stacks up the wins will be if Scott Hall can become the all-time winningest coach in program history. Hall is currently 17 wins behind former coach Barb Greenburg who coached the Bulldogs from 1981 through 1994 and tallied 263 victories over the course of his tenure.
To follow the softball team and stay up to date throughout the 2022 season, head to ButlerSports.com for game previews, recaps, live stats, and more.