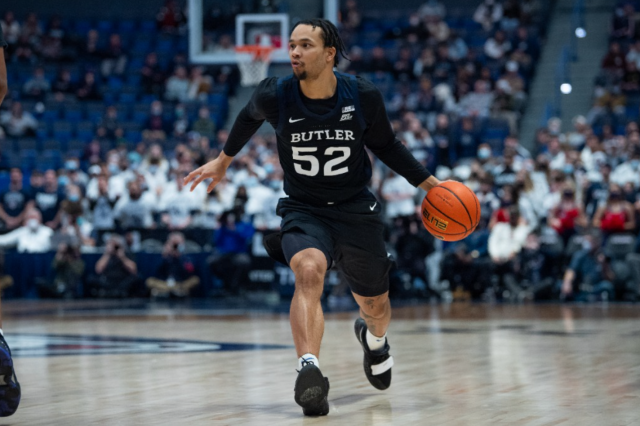 Most collegiate basketball players will finish out their time in college and be done with basketball forever. Some will go on to play overseas. Some may even get drafted into the NBA. However, there are a special few that use their platform and their love of the sport to make a change in the world. 
Graduate student Jair Bolden decided that once his time on the Butler basketball team ends, he doesn't want to be done with the sport he loves so much. Bolden has recently created a foundation called the Grey Rose Foundation. His hopes with this foundation are to help the disadvantaged youth in communities across the country through basketball.
"It's a way to use basketball as a tool to help people who are less fortunate than I was growing up," Bolden said.
Bolden was fortunate enough to grow up with support from his family and enough resources to make it as a NCAA Division 1 basketball player. 
"I don't think I'd be where I was today without the support and resources that my parents were able to give me," Bolden said.
However, growing up, he saw kids who were just as talented but not as fortunate, so they didn't make it as far as he did. This is truly what sparked his interest in creating this foundation. 
Bolden has always had a passion for helping people, and he felt like using basketball to do that would combine both of his passions. As for timing, he mentioned that there is no better time than the present to create something like this.
"I've always wanted to help people, but I didn't know how or when," Bolden said. "When I was younger it was always one day when I get older, I'll do something. But then I realized time just keeps going, and if you keep pushing off your goals and pushing off your dreams it will never get done."
Basketball is something that Bolden has been a part of for his whole life, and he described it as a microcosm of life. He has learned so much from basketball and thought others could learn from it through this foundation.
"There's so many emotions, trials and tribulations, love and pain and tears and joy that go into basketball that you can learn so much from it," Bolden said. "Basketball is a beautiful game that exposes who you are as a person, and that's why I wanted to use basketball specifically as a tool to help others."
Basketball has shaped Bolden's life for the better and he wants people to experience that feeling. Starting the Grey Rose Foundation was the best way for him to make that happen. 
"If fixing a court will help 100 more kids experience that, then I feel like that's the best thing that I can do," Bolden said.
When Bolden pitched this idea to his friends and family, they were all very excited and eager to help out. Bolden is taking charge of this foundation and he is hoping to turn it into something full-time after graduation.
"I'm definitely getting help from a lot of different places but I'd say I'm the main person doing most of the things," Bolden said. "People love to help and they feel like it's a good cause."
Grey Rose Foundation's first big project is to fix up some basketball courts in Zimbabwe that are currently unusable. However, they are not just random courts. These courts were built by and named after Jair's great grandmother, Rita D'Almeida. His mother also grew up in Zimbabwe. According to Grey Rose's website, they have "committed to raise the $10,000 needed to restore the courts and provide the necessary equipment."
You may be thinking: this is a basketball foundation, why is it called Grey Rose? Bolden explained the special meaning behind it.
"Well, my little brother's name is Grey, and my little sister's name is Kaia Rose," Bolden said. "Her middle name is the middle name of Rita D'Almeida, who started the courts [in Zimbabwe]."
Bolden is unsure what the future will look like for the Grey Rose Foundation, but he is hoping to have an established presence in either Zimbabwe or the United States soon. His dreams for this foundation are to one day open up a facility that kids can go to after school to study but also use sports as an outlet.
"It's kind of like a safe haven for kids to come and have mentorship and be able to still have my hand in the community when I'm done playing basketball," Bolden said. 
For more information or to donate to Grey Rose Foundation, you can visit their website www.greyrosefoundation.com.