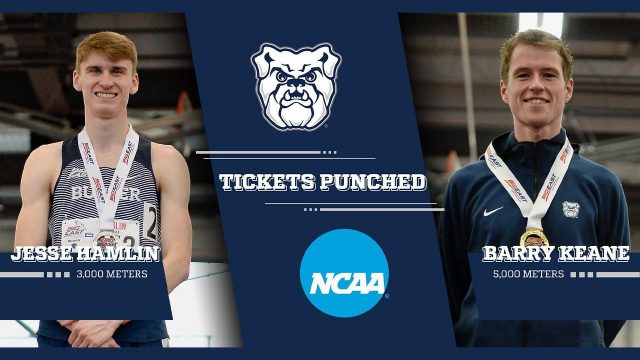 With Winter Sports winding down and Spring sports starting there is lots of action to follow. Let's take a look at our top five moments in Butler Athletics this week. 
Butler Swimming sets nine new school records at The Big East Championship. Records were broken in the 800 Free Relay, 200 Medley Relay, 200 Free Relay, 400 Medley Relay, 200 Free, 200 IM, 400 IM, 200 Back, and 200 Fly. The Dawgs finished sixth overall in the meet and Coach Maurice Stewart was named the 2023 Women's Co-Coach of the Year. 
Barry Keane and Jesse Hamlin earn spots in the 2023 NCAA Indoor Track and Field Championships in Albuquerque, New Mexico. Kenae will compete in the 5,000 meters for the second year in a row. Hamlin will compete in the 3,000-meter race. Both races will be held on March 11th, the 3,000 meters will be held at 10 pm and the 5,000 meters will be held at 10:05 pm. 
The Women's Lacrosse Team picked up their first win of the season against Detroit Mercy winning 12- 10. It was also the first win for Head Coach Maggie Zentgraf. The Lacrosse Team will travel to St. Charles, Missouri to take on Lidenwood on March 11th. 
The Butler Mens Basketball team had their last home game on Tuesday and honored senior Eric Hunter Jr. The game was a tough one for fans to watch with the Dawgs trailing number six-ranked Marquette the entire time.  Marquette won the game 72 to 56 ultimately winning the regular season Big East Championship Title. The team has one more regular season game at Xavier on March 4th before moving on to the Big East Tournament. 
The Women's Basketball team closed out the regular season with a loss to Creighton in Omaha. They finished the regular season with an 11 – 18 overall record which is quite a change from their last season. The Lady Dawgs are slated to play Georgetown in the first round of the Big East Tournament on Friday, March 3rd.