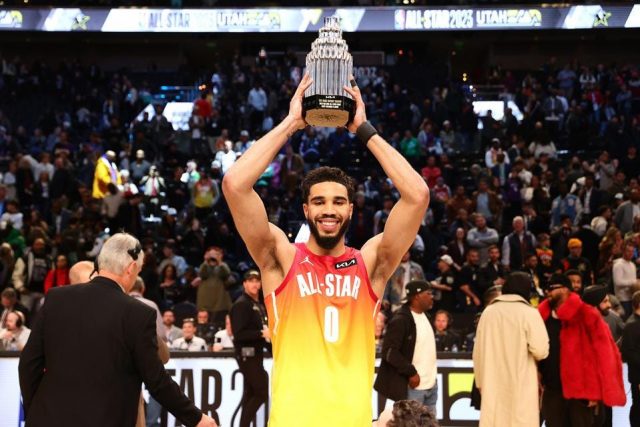 by Ben Wheeler
This year, the NBA hosted its 72nd annual NBA All-Star Game in Salt Lake City, home of the Utah Jazz. Salt Lake is its second time hosting the event, marking its 30th anniversary since its last hosting in 1993. 
The weekend got off to an exciting start at the NBA Skills Challenge, where three Utah Jazz players — Jordan Clarkson, Colin Sexton, and Walker Kessler — faced off against Team Rooks — Jaden Ivey, Jabari Smith Jr and Paolo Banchero — and Team Antetokounmpo — Thanasis and Alex Antetokounmpo, as well as Jrue Holiday. Due to injury, Giannis Antetokounmpo did not participate.
The challenge began with Team Jazz players getting off to a rough start, failing to record a single point. However, the second and third rounds were nothing more than a great hometown story. The Jazz players dominated the next two rounds and won the whole competition. 
In the Three-Point Contest saw two Pacers contestants do well. The first was former 2020 3-point champion Buddy Hield, looking to win his second in the last four years. Newcomer Tyrese Haliburton, also looking to win for the city of Indy, got off to start a hot start making the most threes in the first round with 31 points. Both Pacers made the final round which only had room for three players. However, that third spot would prove costly. They went up against veteran sharpshooter Damian Lillard. 
Haliburton struggled in the finals, only scoring 17 points. Hield had a strong contest putting up 25 points in the final round, but that was not enough as Lillard edged him out by posting 26 points. It was Lillard's first 3-point contest championship win, decorating his already outstanding shooting career.  
Lastly, the NBA Slam Dunk Contest came down to the wire. Newly signed Philadelphia Sixers and G-league superstar Mac McClung dueled off against the Pelicans' Trey Murphy III. Murphy had started with an exciting dunk coming from teammate Jose Alvarado. McClung then had arguably the dunk of the night when he flew over two people to score a perfect score of 50. McClung's next three tries did not disappoint either, as he near a perfect score on each attempt. Murphy III came close to tying McClung with a perfect score, but he came up short with a score of 49.4. McClung would go on to win the contest and its $100,000 prize.
After a fun Saturday night, it got down to business on Sunday night as the Team Giannis faced off against Team Lebron. Antetokounmpo, who has been sidelined with playing through a right-hand wrist injury, still started but came right out after a quick dunk. On the other side, it was the Lebron show early. James was making highlight and highlight with corner threes and alley-oop finishes. 
Even with James' performance, this game came down to a duel between Boston Celtic teammates Jayson Tatum and Jaylen Brown. Brown represented Team Lebron and Tatum represented Team Giannis. Brown put in great numbers — 35 points, 14 rebounds, and five assists. Tatum scored 55 points, 10 rebounds, and six assists. Ultimately, Team Giannis would win 184-175, where Tatum got this year's NBA All-Star Game Kobe Bryant MVP Award. Winnings for the game went to the "Raise the Future" charity.