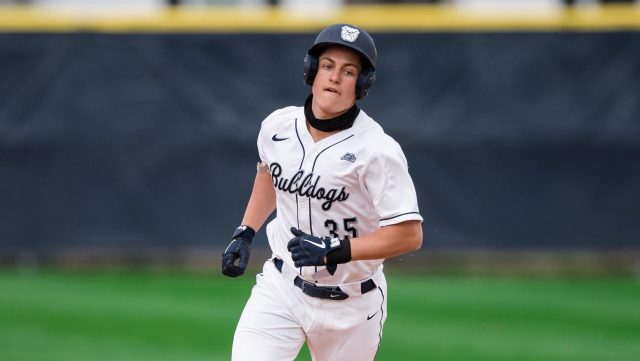 Butler Baseball matches up in a three-game series against Jacksonville this weekend. The Bulldogs travel to Florida to face off against the Dolphins for the first time in program history. 
Despite a three-game sweep against Murray state to begin the season, Butler has won four of their last five games, climbing back to a 4-4 record. Jacksonville has started the season 6-3, including a 3-2 victory against #10 Florida State. 
Butler graduate student Travis Holt is heating up at the plate to start this season, as he's batting .412 with an OPS of .953. On the other end, Butler freshman Cole McDaniel has posted a 2.25 ERA through his first eight innings pitched, earning his first collegiate win against Prairie View. However, despite a strong start from their freshman ace, the Bulldogs have an 8.47 team ERA. 
Jacksonville begins the season with five batters hitting over a .300 avg. The Dolphins haven't had any trouble putting runs on the board despite only one home run. Chase Malloy, a junior infielder, leads the Dolphins with ten runs and a .391 average through seven games. Pitchers Blake Barquin and Michale Darrel-Hick were responsible for shutting down the Florida State Seminole's offense. 
The key to this series is pitching. This series should go smoothly if Butler can figure it out on the mound. Jacksonville does have some of the best pitching Butler has faced this season, so it will be interesting to see how the Bulldogs match up.
The first game of the series is on March 4th at 6:00 pm at John Sessions Stadium.