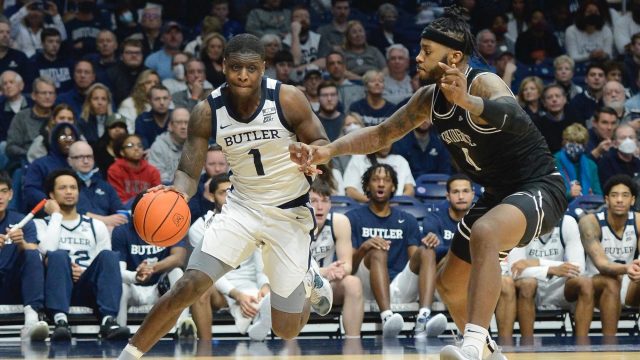 In the 2021-2022 Butler Men's Basketball season, the program has 7 seniors that will be honored in their upcoming game. We're here to take a look back at each senior's time spent as a Bulldog.
Bo Hodges
Transferring to Butler from East Tennessee State in 2020, Hodges has established an impressive career playing for the Bulldogs. Averaging eight points each game on 34% shooting in 2021, Hodges quickly improved his game in 2022 by shooting 43% from the field and averaging 10 points per game.
Photo by Francie Wilson
Hodges posted a Bulldog career-high against Seton Hall on February 23, 2022. Reaching 1,000 career points in his final year at East Tennessee State, Hodges has added over 200 points to this total in only 2 seasons with Butler.
Aaron Thompson
The program's all-time leader in assists also boasts a solid career as a Bulldog. While averaging just 6 points a game in his 5 years at Butler, Thompson's assists statistic speaks for itself. Thompson has consistently put up four assists per game in each of his last four seasons at Butler.
Photo by Claire Runkel 
On February 13, 2022, against the 18th ranked Marquette, Thompson reached 541 career assists, breaking Thomas Jackson's previously held record of 540.
Ty Groce
Arriving at Hinkle in 2021 as a transfer from Eastern Michigan, Groce has offered an experienced role to the Bulldogs. Groce put up a season-high 18 points in a Butler win against Chaminade and added eight rebounds in a loss to Michigan St. Groce's lone season as a Bulldog averaged four points and two rebounds per game.
Photo from Butler Athletics
Bryce Nze
Nze transferred to Butler following the 2017-18 season where he sat out the following year. Making his debut for the Bulldogs in the fall of 2019, Nze ended up leading the Big East in field goal percentage at nearly 63%. Nze improved his senior season when he averaged a career-high 11 points a game, as well as seven rebounds per game.
As a graduate student, Nze currently averages just over 8 points per game, accompanied with 6rebounds each game, a slight step lower than his previous year.
Photo from Butler Athletics
Christian David
Like Groce, David has offered the Bulldogs a strong, veteran presence in his final two years as an upperclassman with the team. In his final season at Butler, David averaged 1 point and 1.5 rebounds per game. David reached a season high in points against Eastern Illinois with 5.
Photo from Butler Athletics
Bryce Golden
A big-man senior, Bryce Golden has established himself as a versatile forward for the Bulldogs in his 4 years at Butler. Making a significant leap from his freshman year into sophomore year, Golden averaged 8 points and 4 rebounds his second season at Butler. Golden continued his improvement in his junior year, putting up 10 points and nearly 5 rebounds per game. Golden's versatility makes him a threat from long-range in addition to his ability to score in the paint.
Photo from Butler Athletics
Jair Bolden
A transfer in 2020, Bolden highlighted his first season with the Bulldogs from long distance, shooting 34% from beyond the perimeter. Bolden also put up 10 points per game, proving himself to be a strong, scoring option. In his current season with Butler, Bolden averages nearly 7 points per game, shooting 32% from the three-point line.
Photo from Butler Athletics
Whether Butler is their final stop or not, each of these seniors have made an impact on this program that will forever cement them as a Bulldog. Butler Men's Basketball takes on Villanova this Saturday at 5:00 p.m. ET. in the regular season finale.