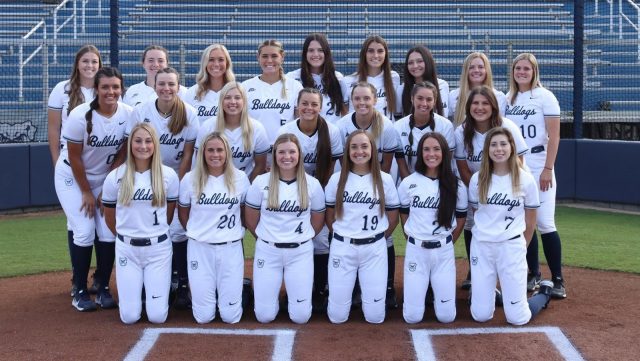 The Butler Bulldogs softball team is looking to build off of their 2021 underdog performance which saw them reach the Big East Tournament semifinals. The Dawgs are set to begin play this weekend at the DePaul Dome Tournament in Rosemont, Illinois. The Dawgs enter the 2022 campaign following a 2021 season that saw them finish 17-21-1 and 6-11-1 in conference play. Butler returns 16 players from its 2021 roster to this year, including two graduate students staying for their fifth year of eligibility.
The two returning graduate players, infielder Maddie Moore and pitcher Alyssa Graves, will look to provide veteran leadership to a team welcoming six freshmen to the roster (four true freshmen, two redshirts). Moore, a former All-BIG EAST Second Team selection, batted .193 in 33 starts for the Bulldogs last season. The left-handed ace Graves posted a 2.71 ERA last season, which was the best mark that any Bulldog had last season. Look for these two veterans to be key on the field and in the locker room for Butler.
The Dawgs two top hitters from a season ago will also return to the lineup this season. Senior infielder Lauren Fey batted a BIG EAST best (min. 10 games) .433 last season with 17 RBIs and one home run. The 2021 season saw her take home numerous accolades, including All-BIG EAST First Team, 2021 NFCA All-Midwest Second Team and All-Region First Team, and 2021 All-BIG EAST Tournament honors. Senior pitcher/designated player Karli Ricketts hit .220 last season while leading the team in both home runs and RBIs, with eight and 27 respectively. Ricketts also starred for the Dawgs on the mound, posting a 2.80 ERA and a team-high 126 strikeouts on the year. She also joined Fey as a member of the 2021 All-BIG EAST First Team.
The Dawgs are coached by Scott Hall, who is heading into his 12th season at the helm of the softball program. Hall led the Bulldogs to their best season ever in 2016, winning the BIG EAST Tournament and making an appearance in the NCAA Tournament for the first time in program history. Butler softball alumnus Stacey Goyette '93 and experienced softball player Shawn Frank round out this year's coaching staff for the Bulldogs.
With several key pieces returning to the lineup this season, look for Butler to be a force in the BIG EAST this season. The Bulldogs will kick off their season tonight against Valparaiso in their first game of the DePaul Dome Tournament. The Dawgs will play 23 non-conference opponents across three different tournaments before BIG EAST play begins in March.