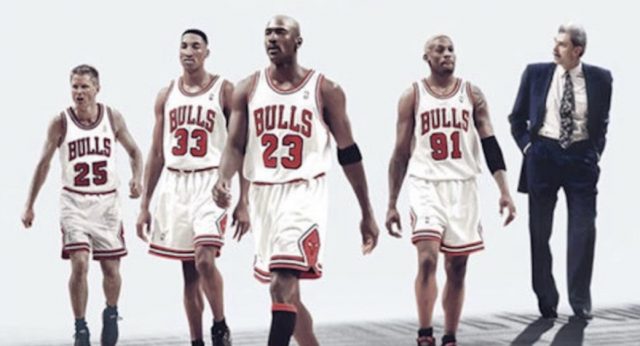 "What time is it? Game time, woo!"

It will always be game time for Michael Jordan and co., but now it's game time for everyone in the sports world.

Starting on April 19th, 2020, we won the tip. We have possession of a front row seat to Michael Jordan's celebrated career, in addition to the storybook timeline of the Chicago Bulls' through six NBA Championships.

Two episodes of "The Last Dance" are released every Sunday on ESPN, with each episode one hour apiece. The debut of the series was originally going to air in June, but lucky for us, ESPN decided to advance the premiere of this project a few months early due to requests from fans, and adjustments in programming caused by COVID-19.

Not only does this 10-part docuseries commemorate the Bulls' success in the 1990s; it gives us a deeper look of the franchise's happenings, featuring a compilation of themes like the controversial management led by the late General Manager Jerry Krause, Scottie Pippen upset about not making the big bucks, Phil Jackson's unique coaching philosophy, Dennis Rodman drama, the Detroit Pistons, and much more. This might seem like a bit much, but this is only through Episode IV.

But, the most admirable part of the docuseries so far is in Episode I. Director Jason Hehir takes us back to Jordan's humble beginnings at the University of North Carolina, where we get to see splashes of Jordan's National Championship-winning days. The late head coach of North Carolina Dean Smith and current head coach Roy Williams get the chance to speak about the unmatched work ethic and growth of Jordan during the summers in between seasons.

There is plenty of basketball in Episode I, but there is a sentimental portion highlighted, too. Jordan's mother reads a letter he sent to her dating back to his freshman year at UNC, asking her for stamps and money. This was refreshing to see because it was evident that Jordan and his mother appreciated the youthfulness of the moment. Jordan showed spurts of his tender years during his first few seasons in the NBA too; he was only 20 years old and fresh. The rest of this episode had a positive motif, because there no was no extreme tension with the Bulls yet, in terms of players.

Episode II shifts to a completely different topic. This episode revolves around Scottie Pippen, who went from equipment manager to arguably one of the best NBA players of all time. Pippen was crucial as to why the Bulls were able to dominate the league, but money got in the way. He was a part of a 7-year, $18 million-dollar contract, leaving Pippen feeling undervalued compared to other players in the league. Pippen is not happy at this point and wants a trade, but actually ended up getting injured and watched his team struggle without him. Deep down, Pippen was upset but wanted to be back.

Episode III belonged to Dennis Rodman, who was a part of the Bulls' second three-peat. Rodman became an icon with his crazy hair styles, wardrobe, lifestyle, and tenacity on defense. He was a member of the "Bad Boys" with the Detroit Pistons in the late 80s, who the Bulls could never get past. Rodman and the Pistons created "The Jordan Rules," meaning Jordan had to work for every single bucket. But, it got out of hand because it seemed like the Pistons were trying to physically hurt Jordan. Rodman later played two seasons with the San Antonio Spurs until the Bulls picked him up. This episode also gives us a glimpse of when Rodman asks for a vacation to Vegas.

Now a peek of Episode IV. Rodman was only allowed 48 hours of vacation to Vegas, but his teammates knew he wasn't going to come back in that span. Rodman meets Carmen Electra in Vegas, they spend the night together, and MJ ends up having to get Rodman back to basketball practice. At practice, the team had to do extra conditioning to get their teammate back in shape. Lastly, head coach Phil Jackson and Rodman realize they both have a passion for the Native American culture, and it strengthened their relationship.

The episodes final main theme is the transition to the new offense, the Triangle Offense, where Jordan didn't constantly have the ball in his hands, unlike with his previous head coach, Doug Collins. From here, there is more about the Bulls vs. Pistons rivalry, and MJ calling Pistons guard Isiah Thomas a choice word during this conversation. We also get to hear about the Bulls play the Lakers in The Finals, where Jordan learns to be the ultimate teammate with the new offense. The episode then circles back to the '97-98 season, where Krause started to question Jackson after the Bulls blow a huge lead against Utah.

It's safe to say that "The Last Dance" has lived up to the expectation. Episode V and VI air this Sunday at 9 p.m., and the vintage story continues.