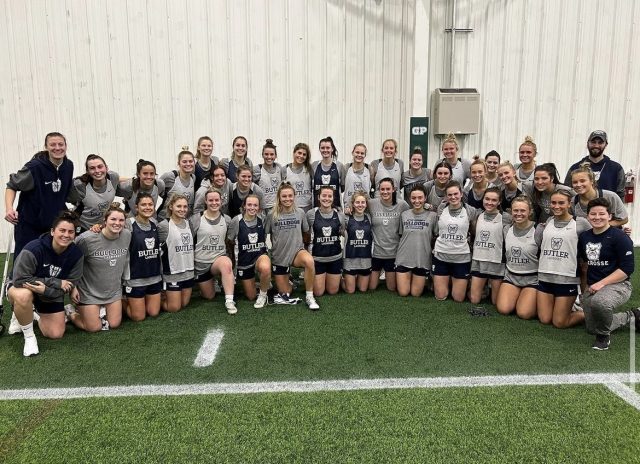 With spring sports underway here at Butler University, there have been some notable changes for a few of the teams, as well as a lot of exciting things to look forward to. I sat down with junior goalie, Aleigh Monroe, on the women's lacrosse team, to learn more about what this season looks like for their program.
The biggest change the team is seeing this season is the hiring of a new coach. Maggie Zentgraf was hired in August 2022 to lead the Butler women's lacrosse program. She was a former player at Notre Dame, and made her mark coaching at Lake Forest, where she led them to a conference title. Monroe said that the transition of a new coach has been better than expected for the team.
"The transition has been pretty smooth. The coaches did a good job finding out what our team identity was and doing a lot of work building trust with one another and with the staff through individual meetings with them and getting to know one another as people".
With the support of the coaches and the potential this team has this season with a strong freshman class, Monroe is excited to see what they could accomplish.
"I'm just excited to see how well this team will do. People are expecting a lot with the new coaching staff and we have a pretty impressive freshman incoming class. So I'm just excited to see what we can do and make program history".
The Bulldogs are heading into only their 7th season in program history, with a couple of those being interrupted by the pandemic. They have been creating a foundation for the program over the years, but Monroe says that they are ready to take on this season with confidence.
"Just have confidence in ourselves and our coaches. We have been an underdog in the Big East for awhile now and been a developing program but now that we are going into year 7 we don't have that new team vibe to us anymore".
Being a junior, Monroe has a lot to offer the team with her experience and leadership abilities. She talked to me about how her role as a goalie plays an even more important part in that.
"I think I bring with me a lot of experience. Being a goalie too puts you in a natural leadership position for the defense. I am pretty approachable so freshman and sophomores feel comfortable coming to be with any questions or any support on or off the field".
Looking at the season so far, the Bulldogs had a bit of a rough start, coming up just short to Youngstown State and Kent State. However, on February 26, Butler got their first win of the season on the road, defeating Detroit Mercy 12-10. Junior Leah Rubino and Freshman Emmie Ridgeway helped lead the team to victory, with two goals each. 
The Dawgs are on the road again for their next few games, heading to St. Louis, Missouri on March 11 to take on Lindenwood, Winthrop University on March 18, and then will finish off their back to back road games against the Cincinnati Bearcats.