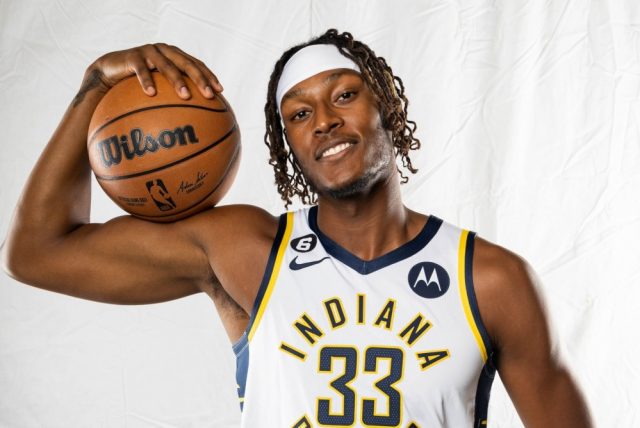 Indiana Pacers big man Myles Turner resigned with the team on Monday. The center from The University of Texas was extended for 2 years and $60 million and an additional $17.1 million renegotiation on his 2022-23 salary.
This $17.1 million renegotiation deal is the largest renegotiation deal in NBA history. This will add on to his $18 million salary this season. 
With expectations of a low production year, the Pacers were expected to trade Myles Turner by the end of the season. However, with the unexpected emergence of young guard talent from the likes of Tyrese Haliburton and rookie Bennedict Mathurin, and an extremely productive first half of the season from Myles Turner, the Pacers decided a resigning was necessary for the center position.
Turner is currently averaging a career high 17.5 points, 8 rebounds, and 2.5 blocks per game. He also has a career high in field goal percentage at 54.5% and 3-point field goal percentage at 39.1%. 
Turner is a two-time NBA blocks champion and his new contract should be plenty of motivation to continue that. The Pacers currently have the 7th most cap space in the NBA and could have up to three first round picks in June to continue to build. 
By resigning Myles Turner, the Pacers are making an aggressive move to put the team in a winning position. They are making a smart move by investing in young talent, relying on their current stars, and having a perfect situation to draft star rookies. 
The Pacers should be after Villanova star Freshman Cam Whitmore in the draft. At 6-7, the young guard would complement both Haliburton and Mathurin in a "big-guard" dominated league. 
The Pacers should also be aggressive in free agency. Specifically, they should target a star in the forward position. Experts predict that the Pacers will sign either Matisse Thybulle of the 76ers or Grant Williams of the Celtics to compliment their newly signed big man.
Pacers fans should be excited about what the future holds with Turner's return. 
For Butler 360, I'm Chandler Hart.