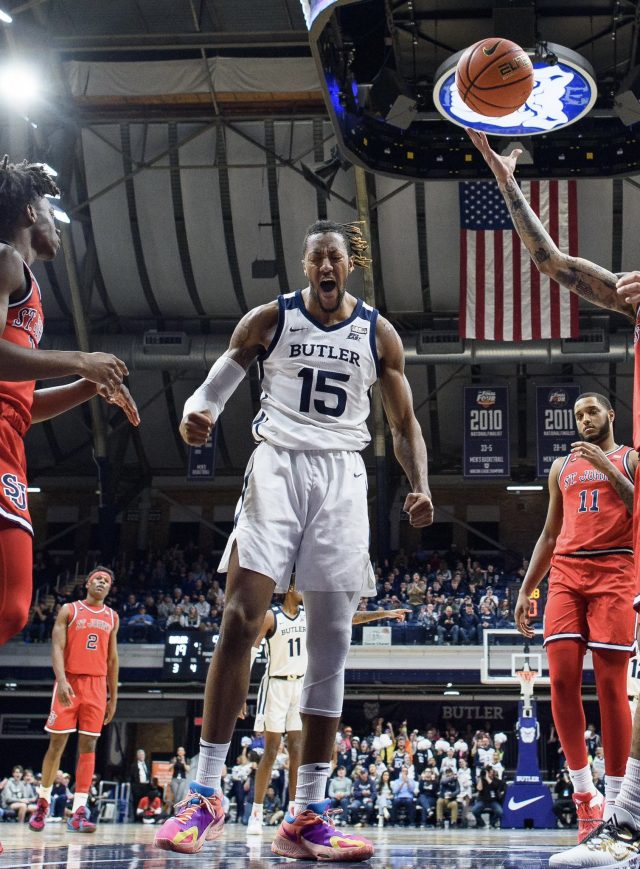 The Men's Basketball team kicked off a busy week at Hinkle Fieldhouse by taking on St. Johns on Tuesday. The Dawgs were still missing Chuck Harris (out with Concussion Protocol) and John Michael Mulloy (foot) but everyone pitched in and were a part of the action. Simas Lukosius had a great night with six rebounds and 11 points. Myles Tate saw some action pitching in with six points, two assists, and two rebounds as well. However, Jayden Taylor and Manny Bates were the stars of the game. 
Jayden Taylor led the team by taking numerous outside shots as well as going straight to the basket. Taylor had his second game in a row scoring 19 points showing everyone why he deserves to have a spot in the starting 5. 
Manny Bates also had a great night and brought the energy with a dunk party as some would say. Bates had a great night in the paint with six rebounds, 4 assists, and scoring 15 points for the Dawgs. 
The Game ended in dramatic fashion with the last basket by St. Johns being overturned giving the Dawgs a 68 – 66 win at home. The Dawgs will face off at home against conference rival Xavier on Friday at 7 pm. 
On Wednesday, the Women's basketball team took on DePaul on the road in Chicago.  The Lady Dawgs were led by Rachel McLimore who scored 18 points, 12 of which were from the 3-point line. Senior Tenley Dowell came off of the bench to score 11 points and have 3 rebounds. Jessica Carrothers also helped the team by scoring 13 points. Even with this tremendous effort, the Dawgs could not keep up with DePaul. They move to 7 and 17 for the season. Their next game will be on the road this Saturday in Providence vs the Friars. 
The Women's Tennis team took home their second straight victory this week at Cleveland State University with a dominant 4 to 3 win. Katie Beavin led the team by winning her match in a straight set. The Dawgs look to continue this path at their next match on February 16th vs. the University of Indianapolis at home. 
The Men's Tennis Team will have an away match on Friday at Ball State at 2 pm as well as  doubleheader matches at home on Saturday vs. Eastern Kentucky at 9 am and Marian at 3 pm. 
Both the Men's and Women's track teams will be competing in the Music City Challenge in Nashville, Tennessee this weekend as well as in Boston in the David Hemery Valentine Invitational. 
Last but not least Softball has an away series in Leesburg, Florida to open their season. They are playing numerous games this weekend against Minnesota, Marshall, Western Kentucky, Portland State, and Colgate.