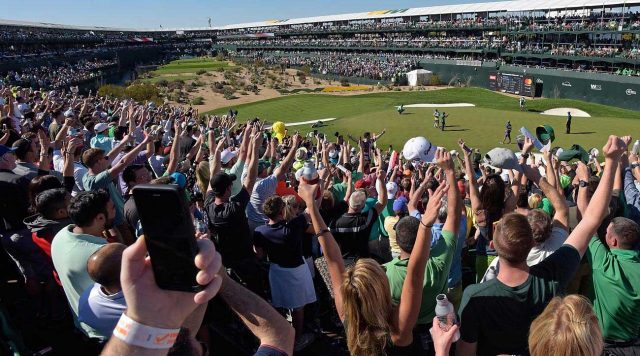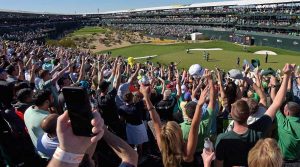 This weekend the Super Bowl was not the only event in Phoenix. The Waste Management Phoenix Open of the PGA Tour was a highlight for golf fans and non-golf fans alike. The event has been known by fans of golf as 'The People's Open' and this year the organizers leaned into that notion. Hashtag-The-People's-Open was printed on banners around the Stadium Course including the famous 16th hole.
The 16th hole, largely known as the Coliseum is a par 3, about 180 yards, however, on days that patrons fill the massive stands it is anything but a simple hole. Fans rush from the opening of the gates to the 16th to have a chance to witness the spectacle that has been called "the greatest party on grass."
The chance that the patrons will erupt with a hole-in-one is there, but so is the greater chance that loud boos and jeers will ring out with each shot into one of the four bunkers, a missed birdie putt, or the inevitable 'bogey' chants if one is unable to save par. While the collective crowd efforts stand out there are also individuals that stand out too. Littered amongst the celebrities in the crowd on sixteen are human-sized bananas, Mario and Luigi, many football jerseys, and the Ninja Turtles who got to the gates on day one as early as 4am to secure their spot in the party zone.
The sights and sounds (when the broadcast doesn't cut out to censor vulgar language) of the Waste Management Phoenix Open are unlike anything else on the PGA Tour. The twenty-million-dollar purse is only part of the reason the professionals want to play in the tournament. The self-proclaimed "Loudest Hole on Earth" is an opportunity that must prove hard to pass on.