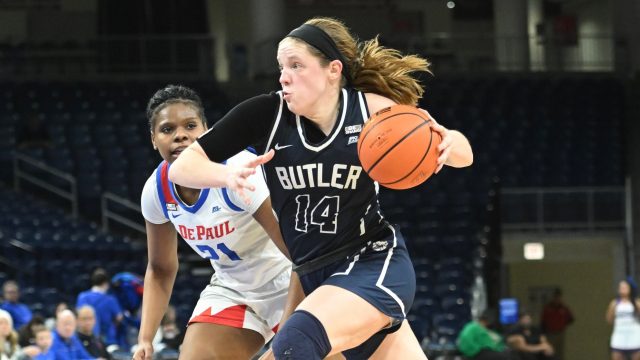 Rachel McLimore drives to the basket in the game against DePaul on Feb. 8. Photo courtesy of Butler Athletics.
The Butler Women's basketball team is currently in a turn-around season after hiring a whole new coaching staff and landing new transfers. The Bulldogs are currently 9-17, 4-13 in Big East play and are currently on a two-game winning streak. Some familiar faces from last year are playing well, but the newcomers have been the key contributors. Let's take a look at one of Butler's most productive players so far this season, Rachel McLimore.
Rachel McLimore is a graduate student from Zionsville, Indiana who played four seasons at IUPUI before transferring to Butler. She was a crucial part of IUPUI's run in the NCAAW Tournament at the end of the season where they won in the first round and ended up losing to No. 4 seed Oklahoma by six points.
In April, when Butler hired their new Women's basketball head coach, Austin Parkinson from IUPUI, his first move was to acquire his former player. Rachel has been a really important part of the team's turn-around this year after only winning a game last season. This season Rachel is averaging 11 points per game while shooting 40% from both the field and the 3-point-range. On Wednesday night, she put up a game-high 21 points in the narrow win over Georgetown at home where they won 58-56. She made the game winning basket with only a few seconds on the clock to secure the victory.
She has been a leader on this team since the moment she got on campus. Her high character, her ability to be a game changer on the court and her effort in the classroom is exactly what Butler represents. She has the ability to put the defenses on their heels with her creativity when attacking the rim and consistency knocking down the three from outside.
We'll be keeping our eyes on Rachel these last couple of games before the Big East Tournament and be sure to check out Butler's last home game of the season on Friday which also happens to be Senior Day.