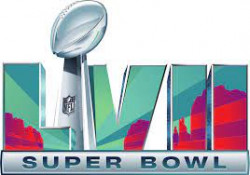 By Nathaniel Walker
We started with 32 teams and are now down to the final two. The Chiefs and the Eagles. Kansas City and Philadelphia. Here are a few keys to the game and my predictions for how it will turn out.
BATTLE OF THE TRENCHES
Philly's incredible defensive line will look to go to town against the Chiefs' patchworked offensive line and the Eagles may need it if they want to be Super Bowl Champions. Finding a way to make Mahomes face consistent pressure and keep him off balance is paramount for the Eagles to keep a lid on the Chiefs' explosive attack.
COACHING
People love to talk about player experience when it comes to the playoffs and they aren't wrong but coaching experience is just as important, if not more so. Andy Reid and his staff have been here plenty of times before and they know what to do and what not to do in order to get this team ready to compete at the highest level. I won't say that Nick Sirianni cant do the same, but he has to figure it out for the first time. One thing I do know is that he needs to coach his best game if the Eagles want to come out on top.
HEALTH STATUS
Luck is always a contributing factor to any championship season because injuries just can't be predicted, but the teams that find a way to get healthy at the right time are the ones that find success in the playoffs. The signal callers for both teams have gotten injured semi-recently and while they're both on the mend, their health will be interesting to monitor in this game. The Eagles' offense with a healthy Jalen Hurts is much more dangerous and much more lethal as he can participate in the rushing attack as well. On the other side, the Chiefs' offense with a healthy Mahomes provides much more stability as his improvising and scrambling that makes him so feared is fully unlocked. Look to see how healthy both quarterbacks are when the two teams face off.
Given all of these factors and many more, I ultimately think that the Chiefs will find a way to get the job done and add to their legacy and dynasty of sorts. The Eagles are no bums but at the end of the day, it just isn't their time yet.
SCORE PREDICTION: 35-27