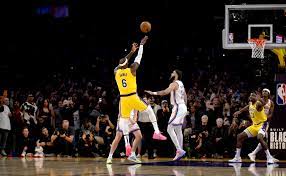 By Lorenzo Vergara
Only needing 36 points to pass the great Kareem Abdul-Jabbar's scoring record, Lebron James had his eyes set on getting the record. What once was seen as an unbreakable record now has been broken after nearly four decades.
Lebron James and the Los Angeles Lakers hosted the Oklahoma City Thunder in a highly anticipated game as The King was at home and the whole building knew he was going for the record. Even Kareem Abdul-Jabbar was in attendance to watch Lebron break the record.
Gametime! Lebron got going early as he started his night off with a triple in the corner and the arena knows what he is coming for. By the end of the first half, Lebron scored 20 points and was 16 points away from breaking the record. In the third quarter, Lebron James had 14 points and was just 2 away and no bucket was bigger than a turnaround jumper with 10.9 seconds left in the third quarter. The record held by Kareem no longer stood. This then constituted a standing ovation and a speech from Lebron himself.
With a new king at the top of the all time scoring record, the NBA will now be wondering who will be next to break that record.